Consumer councils
'Establishing a patient and family advisory council is an effective way to create a formal structure to seek and incorporate patient feedback on an ongoing basis.' [1]
Consumer councils are key mechanisms through which consumers can participate in how health and disability services are delivered in different communities. In this way, consumer representatives can provide feedback on current services and tell providers what is really important to them. They can give advice and input into strategic direction and planning of services.
Consumer councils are made up entirely of consumer representatives and have slightly different ways of working, with some having a strong relationship with clinical governance and reporting to the board.
Watch a video showing effective consumer representation at the governance level and how this works with clinical leadership, within the Board of Directors of the World Federation of Hemophilia.
The Health Consumer Council National Collective
The Health Consumer Council National Collective is a network consisting of consumer council chairs, members and staff involved in supporting and developing consumer councils. The purpose is to:
provide mutual support and information sharing about consumer councils and consumer engagement
support the development of consumer councils in areas where they are not established
develop shared resources relating to consumer councils, consumer engagement and co-design.
It includes consumer councils from across the country that have already been set up by DHBs, as well as those that are still in the process of getting set up.
Your consumer council contacts
Find out more about consumer councils (166KB, pdf) including where to get information to help you run or establish a consumer council, recruitment tools, checklists and stories from other DHBs on how they set up their consumer council.
We'd love to hear from you about any similar work you've been doing. Contact us to share your story.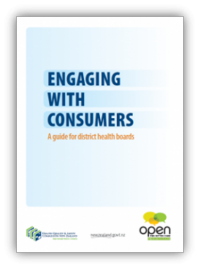 Support for setting up a consumer council

The Commission's publication Engaging with consumers: A guide for district health boards, contains a wealth of information aimed at supporting DHBs to increase/improve their consumer engagement.

The guide includes resources to help DHBs set up a consumer council, such as examples of a terms of reference, recruitment tools, checklists and anecdotes.

See below for links to the guide and related documents.
Consumer representative training resources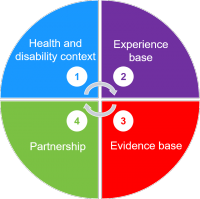 A training package is available for trained facilitators to help new health and disability consumer representatives to prepare for their role. It is designed to support consumers to participate confidently when sharing their views and experiences in decision-making forums across the sector.

Find out more here.
---
References
[1] Health Research and Educational Trust. 2015. Partnering to improve quality and safety: a framework for working with patient and family advisors. p6. Chicago, IL: Health Research & Educational Trust. URL: http://www.hpoe.org/resources/hpoehretaha-guides/1828 (accessed June 2015).
---
Related Resources
Last updated: 14th November 2021