Haere ra e hika koutou ko o matua
Unuhia i te rito o te harakeke
Ka tu i te aroakapa
Aku nui aku rahi e
Aku whakatamarahi ki te rangi
Waiho te iwi e
Mana e mae noa ...
Farewell oh child to the land of your ancestors
Plucked like the simple shoot of the flax frond
I can still see you in the haka
My beautiful loved child of whom I boasted to the skies
You leave behind your people wailing, bereft.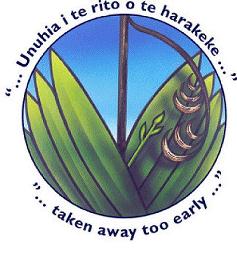 Mr Amster Reedy (ex Deputy Chair) provided the Māori lament associated with this logo.

The graphic shows strong new leaves and flowers growing from the base of the parent and grandparent leaves of the Harekeke or New Zealand native flax. These outer leaves provide protection and sustenance for the tender young new fronds, just as family, whānau and society should protect our vulnerable children and youth.

The CYMRC is very proud of this logo, which makes its vision visible and produces an immediate impact. It assists in engaging the interest, hearts and commitment of all involved in this process.

The concept was developed by the Committee, who commissioned Dunedin graphic artist Allan Hope to interpret this design into the logo. Allan was approached by the parents of a child who had died and was willing to produce the design at minimal cost.
Last updated: 20th January, 2022