Back to previous page
Engaging with consumers: a guide for district health boards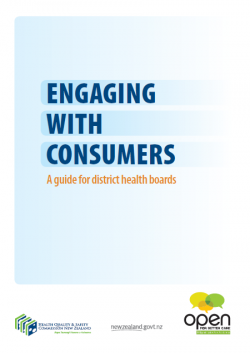 This resource is a practical guide to help New Zealand district health boards, and the health and disability services they fund, to engage better with consumers. It covers consumer engagement in the design and delivery of services, as well as the development of policy and governance procedures. While the principles of engagement still apply, this resource will be updated in 2022/23 to reflect the reformed health system as described in the Pae Ora (Healthy Futures) Act 2022.

The guide provides evidence about consumer engagement, both nationally and internationally. It shares the successes and learnings of Aotearoa New Zealand providers about how they engage with consumers and promotes good practice throughout the health and disability sector. Additional reading and useful links for the guide are available here.

Hard copies of the guide are available by emailing: info@hqsc.govt.nz.
---
Last updated: 23rd June, 2022