Back to previous page
Maternity support for women during COVID-19 (poster for maternity services)
During COVID-19 restrictions in Aotearoa New Zealand, there are four important things maternity services can do to support women*, as this poster describes.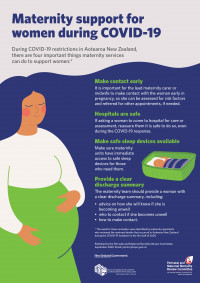 Print and web versions can be downloaded from the bottom of this page, for display by maternity services.

Make contact early
It is important for the lead maternity carer or midwife to make contact with the woman early in pregnancy, so she can be assessed for risk factors and referred for other appointments, if needed.

Hospitals are safe
If asking a woman to come to hospital for care or assessment, reassure them it is safe to do so, even during the COVID-19 response.

Make safe sleep devices available
Make sure maternity units have immediate access to safe sleep devices for those who need them.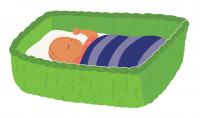 Provide a clear discharge summary
The maternity team should provide a woman with a clear discharge summary, including:
advice on how she will know if she is becoming unwell
who to contact if she becomes unwell
how to make contact.
* The need for these reminders were identified by maternity specialists who reviewed the maternal deaths that occurred in Aotearoa New Zealand during the COVID-19 lockdown in the first half of 2020.
---
Last updated: 1st July, 2022