Back to previous page
A window on quality 2022 (Part 2) | Whakarāpopototanga matua: He tirohanga kounga 2022 (Wāhanga 2)
---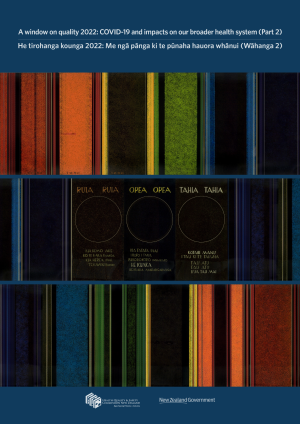 A year ago, the Health Quality & Safety Commission released its first look at the effects of the COVID pandemic on Aotearoa New Zealand health system.

A window on quality 2022: COVID-19 and impacts on our broader health system (Part 2) | He tirohanga kounga 2022: Me ngā pānga ki te pūnaha hauora whānui (Wāhanga 2) updates the effect of the pandemic on our health system and expands its lens to include the impact on our population's mental health, health care workforce and experience of care for disabled people.

Produced in partnership with clinical and academic experts and agencies, health care workers, community workers and consumers, this report confirms our experience of, and response to, the pandemic was different to and more successful than most other countries. We were able to keep COVID-19 out of the country long enough to vaccinate strongly and save many lives. However, the arrival of the Omicron variant exposed long-standing, fundamental weaknesses in our system, the first being the increasing mismatch between the demand for health services and the ability to meet that demand.
Lives saved during the initial phase of the pandemic in 2020 are now being offset by greater excess mortality since the spread of the Omicron variant in the community.
Cancer screening, acute care, planned care, rates of immunisation of babies, particularly Māori and Pacific infants, and babies in families living in poverty were affected by the pandemic.
Our health care workforce was severely impacted, and emergency departments continue to experience greater pressure.
Weaknesses exposed included entrenched inequities in health status, health care quality and outcome experienced by Māori, Pacific and disabled peoples.
Looking forward, the report finds appropriate funding of health services must be balanced with a focus on efficiency and equity, including utilising a unique opportunity for the country revealed by the pandemic: the power of local communities, as seen in Pacific and Māori responses to lockdowns, vaccination, and wider need in the community.