Back to previous page
Ninth report of the Perioperative Mortality Review Committee | Te pūrongo tuaiwa o te Komiti Arotake Mate Whai Muri mai...
Equity in major trauma outcomes is the focus of this ninth Perioperative Mortality Review Committee (POMRC) report. Trauma is a considerable health burden globally: injuries have a substantial impact on health, both as a leading cause of premature death and as a result of disability following a trauma.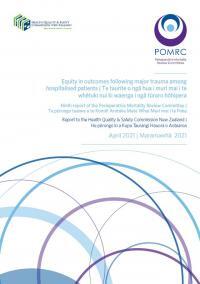 The POMRC has chosen to examine what factors impact on Māori and non-Māori mortality from major trauma, given this is an important health area that no one has comprehensively reviewed previously.

A summary version of the report is also available.
---
Last updated: 1st April, 2021