For Te Rā Haumaru Tūroro o Aotearoa | Aotearoa Patient Safety Day 2021 on 17 November 2021, we have produced five videos featuring whānau and midwives sharing their stories about giving and receiving culturally responsive care, and a poster promoting the videos.
The videos are available below, including accessible transcripts and captions in English, te reo Māori and Samoan. You can also download the poster. For offline versions of the videos or hard copies of the posters, please email communications@hqsc.govt.nz.
The Health Quality & Safety Commission would like to thank everyone who helped to make the videos, along with our sector partners the New Zealand College of Midwives and the Royal Australian and New Zealand College of Obstetricians and Gynaecologists.
Watch the videos
Phoenix's story – a positive experience of culturally responsive maternity care (available with English or te reo Māori captions)
Download an accessible transcript (.docx, 24KB)
---
Olivia and Karen's story – a positive experience of culturally responsive maternity care (available with English or te reo Māori captions)
Download an accessible transcript (.docx, 24KB)
---
Petala's story – a positive experience of culturally responsive maternity care (available with English, te reo Māori or Samoan captions)
Download an accessible transcript (.docx, 25KB)
---
Penina Fitisemanu – providing culturally responsive maternity care (available with English, te reo Māori or Samoan captions)
Download an accessible transcript (.docx, 23KB)
---
Assoc Prof Robyn Maude – providing culturally responsive maternity care (available with English or te reo Māori captions)
Download an accessible transcript (.docx, 23KB)
---
Poster promoting the videos
Download here (.pdf, 2.3MB)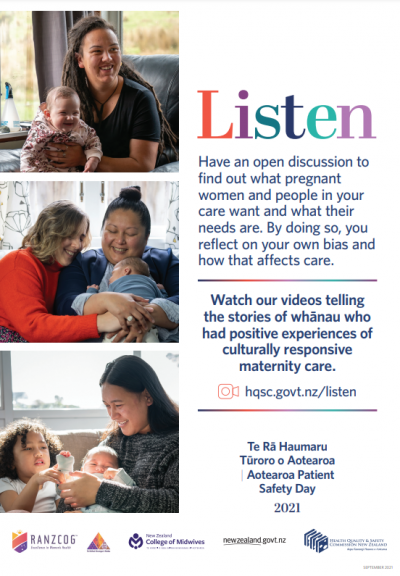 ---
Last updated: 1st July, 2022