Back to previous page
Summary: Bula Sautu – A window on quality 2021: Pacific health in the year of COVID-19 | Whakarāpopotanga: Bula Sautu...
'Bula Sautu' is a Fijian saying expressing an aspirational goal for 'good health that is lived to its full potential; a life of abundance'.
However, Pacific peoples living in Aotearoa New Zealand are suffering from some of the worst inequities in health in the country. Many are even worse than those of our wider Pacific whānau who are tangata whenua.
Pacific peoples live six fewer years of life than non-Māori, non-Pacific, and the gap is widening.
Life expectancy at birth (years), by ethnicity, Aotearoa New Zealand, 2000–19

Source: Chan WC, Papa D. 2020. Life expectancy at birth in New Zealand from 2000 to 2019 by ethnicity. Auckland: Counties Manukau District Health Board.
Bula Sautu looks at every stage of life – maternity, child, youth and adult.
Less than half of pregnant Pacific women are enrolled with a midwife for crucial screening and health checks in their first trimester.
Percentage of women enrolled with a midwife, by ethnicity, Aotearoa New Zealand, 2018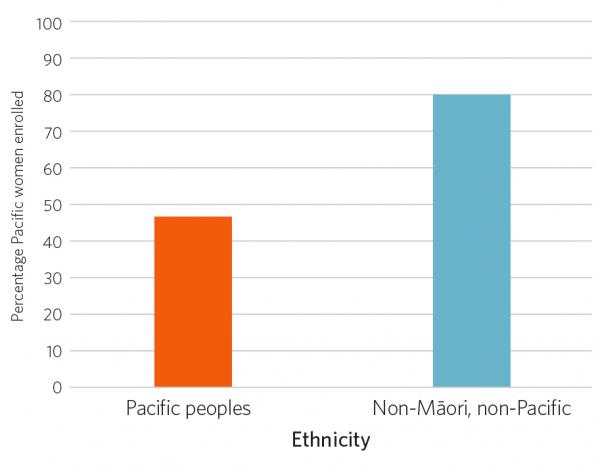 Source: Ministry of Health. 2020. New Zealand Maternity Clinical Indicators.
This leads to unidentified complications, blood loss and ‒ for 10 years ‒ consistently higher rates of mortality for Pacific mums (and their babies).
Perinatal-related maternal mortality rate by maternal ethnicity, average deaths per 1,000 births, Aotearoa New Zealand 2014–18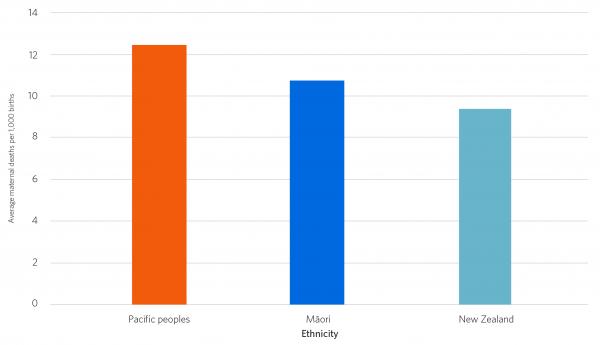 Source: Perinatal and Maternal Mortality Review Committee.
Pacific babies in their first year of life are not getting their core Well Child/Tamariki Ora health visits.
Percentage of infants receiving all Well Child/Tamariki Ora core contacts in their first year of life, by ethnicity, Aotearoa New Zealand, January 2018–December 2019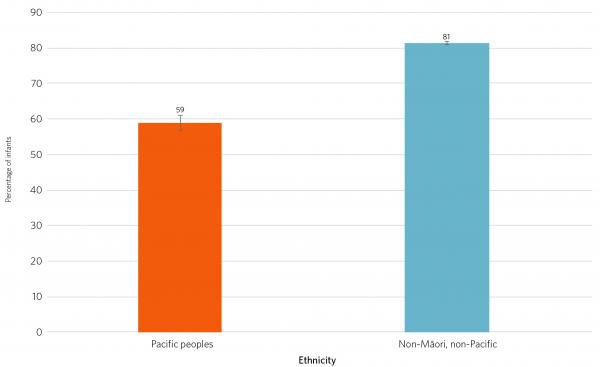 Source: Ministry of Health, Well Child/Tamariki Ora.
So between birth and the age of four, Pacific babies end up in hospital for skin conditions (and asthma and dental issues) at incredibly high rates.
Hospital admissions for skin infections (cellulitis; dermatitis and eczema) per 100,000 population aged 0–4 years, by ethnicity, 2018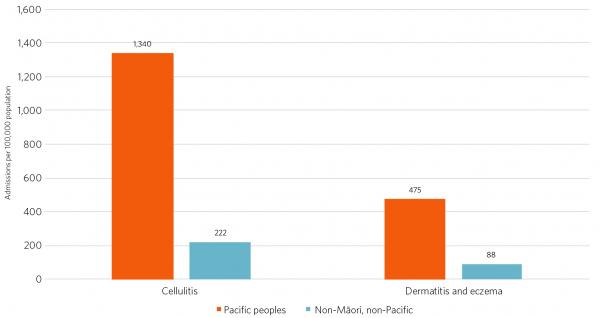 Source: Ministry of Health.
But Pacific children have sky-high rates of immunisations.
Long-term conditions, such as cardiovascular disease, gout, cancer and asthma in Pacific adults are a major issue.
Diabetes prevalence, ages 25–44 years, by ethnicity, Aotearoa New Zealand, 2018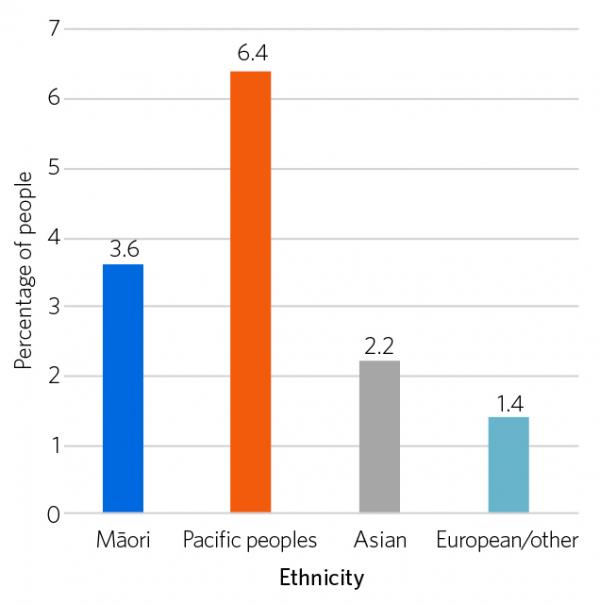 Source: Health Quality & Safety Commission. Atlas of Healthcare Variation, diabetes domain.
Diabetes prevalence, ages 45–64 years, by ethnicity, Aotearoa New Zealand, 2018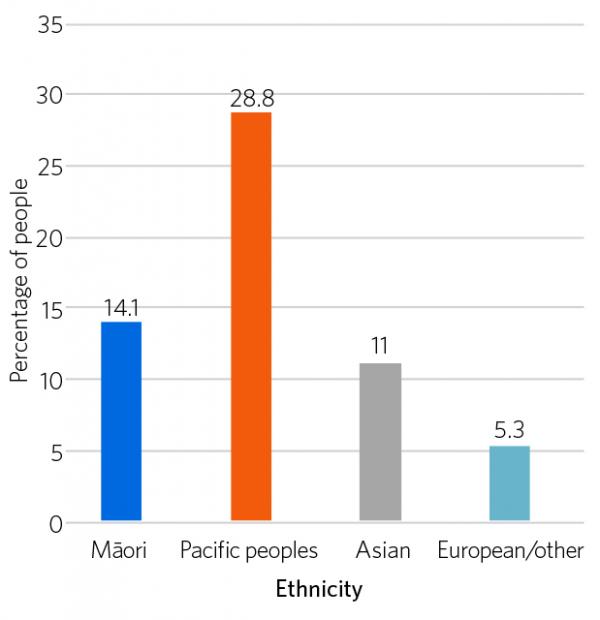 Source: Health Quality & Safety Commission. Atlas of Healthcare Variation, diabetes domain.
Diabetes prevalence, ages 65 years and over, by ethnicity, Aotearoa New Zealand, 2018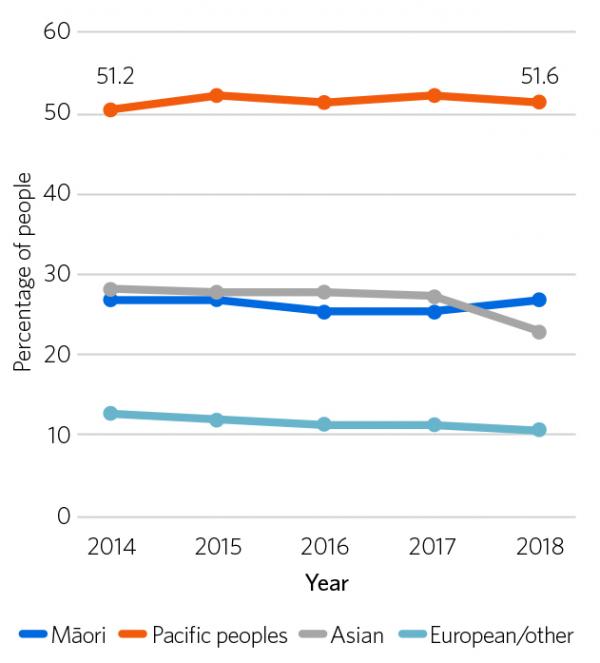 Source: Health Quality & Safety Commission. Atlas of Healthcare Variation, diabetes domain.
Diabetes is a plague on Pacific adults of all ages – half of Pacific elders aged over 65 years have diabetes and this figure has remained the same for five years.
Although Pacific peoples with diabetes are accessing care, their diabetes is not well controlled and their outcomes are the worst in the country.
There is clinical inertia and care is not achieving good outcomes.
The Pacific health workforce is tiny – Pacific peoples are not represented there, but we all know what incredible and successful work Pacific communities and providers have done during the COVID-19 pandemic.
Pacific workforce and Pacific population, Aotearoa New Zealand, December 2016–December 2020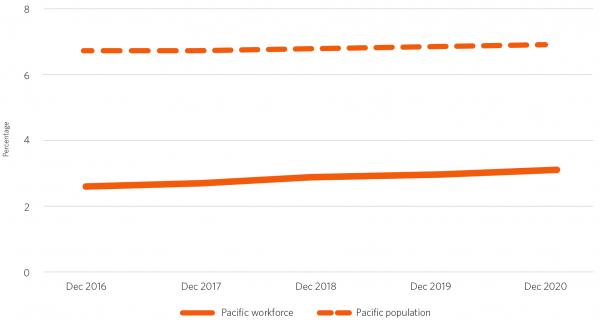 The freedom and resources offered Pacific peoples to care for their communities was matched with unprecedented innovation and success.
Silao Vaisola-Sefo, CEO of South Seas Healthcare says:

'What we learned from 2020, it's a bit like rugby: when the going gets tough, true character is revealed, and the Māori and Pacific providers stepped up big time.'

We need to resource, train and support our Pacific whānau to do more of what they do so well.
Bula Sautu recommendations
In the face of some of the worst inequities in health in Aotearoa New Zealand, and with the unique strengths of Pacific communities in mind, we make these recommendations.

At a system (macro) level we propose the New Zealand health system creates change in the following four key areas:
A structural response is needed from the system.
The system must enable Pacific peoples to identify and design Pacific solutions.
Leaders and decision-makers in our training establishments and professions must take decisive action to support and grow the Pacific workforce required at all levels of the system.
We must address the unacceptable racism of our system, that is a driver of inequitable health care processes and outcomes, and is enabled by the structure of the system.
At an organisational and service (meso) level, we propose the following seven-step framework for health sector organisations and services to improve Pacific health:
We know our data
We facilitate access, and ensure continuity of care, all along the care pathway
We optimise patient experience though high-quality, respectful interactions
We communicate clearly and effectively using health literacy principles
We ensure our care is holistic, integrated and comprehensive
We support our Pacific workforce
We engage authentically with Pacific communities and consumers.
At a micro level, the Commission has convened a Pacific consumer group to respond to the findings of Bula Sautu with an appropriate diversity of Pacific consumer voices, and will convene a Pacific consumer steering group to plan the Commission's response.
Below are snapshots of other innovative approaches showcased in Bula Sautu.
Dr Maryann Heather – GP, South Seas Healthcare, Otara, Auckland; senior lecturer Pacific health, School of Population Health, University of Auckland:
'In terms of our high rates of immunisations for children, I give credit to our practice nurses because they're the ones that make sure that all our kids get the immunisations. They do the recalls. They'll call, they'll send people around. That comes down to relationships. Our parents and our grandparents know the benefit of vaccinations. Often, a lot of the time when we ask them, we tell them why it's important, and they really listen.'
Sinia Saafi, community health worker, Alliance Health Plus Primary Health Organisation:
'The key for me was working through the churches. You need that time for the health worker to go in there and work with the community from the inside out. People are hungry for personal connection, because the personal connection with a health worker gives them confidence.'
Dr Api Talemaitoga, GP, chair of the Pacific General Practitioners' Network:
'Rates of vaccination for human papillomavirus (HPV) in Pacific peoples improved when the Ministry of Health and the Health Promotion Agency worked to ensure the messages were culturally appropriate. A campaign tailored for Pacific peoples was developed with pictures of Pacific families. The message was reframed from appealing to the individual teenager to one about future protection and health of Pacific families. Messages were delivered in Samoan, Tongan and Fijian languages. Immunisation messaging focused on families worked.'
Manogi Eiao, pre-dialysis nurse specialist, renal services, Counties Manukau DHB:
'Money is a big problem. That's what holds a lot of people back – they have no time off work, or they don't have any sick leave. They need to go to work to get that money, to pay the bills, to feed the family and they 'neglect' their health. They 'neglect' their appointments. We're open 8:00am to 4:30pm, but if I recognise that a family is struggling, I'll go out and do a home visit at 6:00pm. Our nurse practitioner does Saturday clinics. She'll see a lot of patients who can't make it during the week, so she'll see them on Saturdays. It's trying to work with our patients and fit in with their lives.'
Bula Sautu

is the product of a partnership and co-development process between the Commission and Drs Debbie Ryan, Api Talemaitoga and Corina Grey, who conceived the seven-step framework. It includes contributions from many Pacific health and community leaders, clinicians and health workers.
---
Last updated: 21st June, 2022