Wiki Haumaru Tūroro | Patient Safety Week 2019 focuses on understanding bias in health care. In this blog, Josie* shares her story, including the unconscious bias she has faced as the mother of a son with an intellectual disability. Josie is a health care professional and has a 25-year-old son with Down syndrome.
Having worked in the health care sector, both before and after my son with Down syndrome was born, I know only too well the effect unconscious bias can have on the health outcomes of those who are marginalised or even – I would go so far as to say – devalued.
Trained as a registered comprehensive nurse in the 1980s, I worked as a student in some of the ghastly institutions, 'sheltered workshops' and 'special units' of the time, all the while having assimilated the classic medical model of having to 'fix' people to make them 'as normal as possible'. And then only if they were 'worth' fixing in the first place! I'd unquestioningly absorbed the notion that quality of life for certain groups, especially those who are intellectually disabled, must, by definition, be lower than for others. My unconscious bias in relation to intellectual disability was significant.
With this in mind, as a 30-year-old living in the UK and pregnant with my second child, I received a phone call from my GP's practice nurse informing me I was at very high risk for having a baby with Down syndrome. It was one of those moments in life when I don't remember sitting down. I had been standing when I answered the phone but here I was, sitting.
How did they know? I'd had all the usual blood tests and then I remembered there was mention of an 'AFP' (alpha fetoprotein) test. This, I found out after the phone call, was a test that can indicate the chance of having a baby with Down syndrome (something as a New Zealander I hadn't heard of because the test was not as widely available here as it was in the UK at that time). I remember thinking 'Down syndrome – of all things!' The advice given to me by the practice nurse was to see the obstetrician for further tests and 'a termination, if necessary'. After much soul-searching and despite pressure from the obstetrician, my little baby with Down syndrome was born 22 weeks later.
I wouldn't say I was instantly enamoured with this baby – it took some time – but his cheeky little personality soon came through and I realised this was not the disaster that I (and health professionals and society at large) thought it was.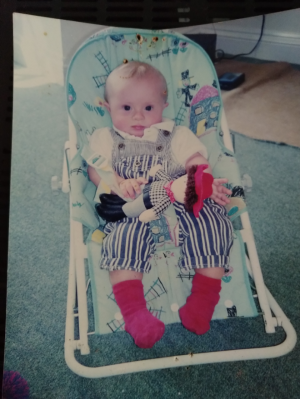 Here was a cute little baby who, right from the get-go, was hilarious, cuddly and interested in people (there was no way he was going to engage in any toys unless they had a face on it!). It was at this point that any existing unconscious bias, fear and ignorance I had about intellectual disability disappeared. I began to understand how I had subconsciously absorbed all the negative stereotypes out there around learning disabilities.

So, we carried on. His health status was good, no cardiac issues or anything really serious, but by the time he was two years old it was becoming pretty obvious he was going to have ear, nose and throat (ENT) issues.

The National Down Syndrome Society says it's common for people with Down syndrome to have these issues due to a number of factors, such as narrow ear canals contributing to chronic ear infections; facial anatomy predisposing to ear infections; and low muscle tone affecting the opening and closing of the ear canal.

Having returned to New Zealand, I started on the well-worn track of visiting a local ENT surgeon on a four-monthly basis to try and sort my son's glue ear. I knew that because my son had Down syndrome there were significant issues attached to treatment, but I got the distinct impression that the ENT surgeon couldn't care less, because my son had Down syndrome. At each appointment he would wave me off with a bottle of Sofradex (a medicine to treat infection and inflammation of the ear) and that was it. We must've gone through litres of the stuff.
He used to joke about 'these kids' but, at my insistence, finally referred me to a paediatric ENT surgeon in a larger city. This was an interesting appointment because the whole time (all 10 minutes of it) the specialist, as is often the case, referred to and engaged with my son as a syndrome. He informed me that he would normally re-fashion the bones in his ear and re-insert them but that 'we don't bother for people with Down syndrome'. I was told to get hearing aids sorted and sent on my merry way. Without the precious Sofradex to boot!
Eventually the ENT surgeon in the region we live in retired and a new one arrived. He immediately took my son to theatre and performed bilateral modified radical mastoidectomies (and also removed his tonsils and adenoids because my son had sleep apnoea).
I will never forget the surgeon coming out of theatre and telling me he had removed my son's ear bones! I didn't hear him say (but read later on the surgical report) that he had had to remove a large cholesteatoma (a growth in the middle ear), secure the facial nerve because it was 'swinging in the breeze' and 'reduce the imminent risk of brain abscess and meningitis'. The effect was instant and life-changing – it was clear his ear issues had a huge negative impact on my son's hearing and speech development, communication, education and social interaction.
My son now has a bone-anchored hearing aid. This has made an amazing difference and his speech and interaction have hugely improved. The care from the hospital audiology department and the new ENT surgeon have been outstanding. But I can't help but wonder how much of this damage could have been avoided in the first place and to what degree unconscious bias by those initial doctors impacted on my son and having such a poor health outcome.
Because my son's health concerns have been dismissed in the past, based on his medical condition, I am paranoid he will end up in hospital for something serious and staff will think they are doing me a favour by letting him die; particularly when there is so much evidence and data about this happening – mostly as a result of unconscious bias.
Death by indifference is a known phenomenon and has resulted in the premature deaths of a number of intellectually disabled people. It also contributes to the fact that people with intellectual disability in this country die on average 20 years earlier than the rest of the population, often from treatable conditions.
A 2012 report says that central to all of this is the lack of value placed on the life of someone with a learning disability and that there is often the assumption that the life of a person with a learning disability is a burden on their family and whānau.
I am extremely pleased and grateful to see that understanding bias in health care is the topic for Wiki Haumaru Tūroro | Patient Safety Week 2019. It's a great opportunity for us all to start talking about this risk to patients, to acknowledge it, not be afraid to call it what it is and change our way of thinking.
On a final note I'd like to thank my son for being the catalyst for change in my attitude towards those with intellectual disability. I am only embarrassed and ashamed, that I could ever have thought the way I did before he came into my life.
---
Author: Josie*
* Names changed to protect privacy.
References:
National Down Syndrome Society. nd. Ear, Nose & Throat Issues & Down Syndrome. URL:

www.ndss.org/resources/ear-nose-throat-issues-syndrome.
Healthcare Quality Improvement Partnership. 2018. The Learning Disabilities Mortality Review Annual Report 2017. URL:

www.hqip.org.uk/resource/the-learning-disabilities-mortality-review-annual-report-2017/#.XZ-dhEYzaUn.
Mencap. 2012. Death by indifference: 74 deaths and counting. A progress report 5 years on. London: Mencap. URL:

www.mencap.org.uk/sites/default/files/2016-08/Death%20by%20Indifference%20-%2074%20deaths%20and%20counting.pdf.