This week marks the annual International Infection Prevention Week (IIPW ) 17–23 October.
Organised by APIC (Association for Professionals in Infection Control and Epidemiology), the theme for this year is 'Make Your Intention Infection Prevention'. In a global pandemic infection prevention is more important than ever in keeping the world safe from health care infections.
The theme aims to celebrate the world's infection prevention and control (IPC) practitioners and the role they continue to play in promoting the science behind infection prevention and countering misinformation. This week the Health Safety & Quality Commission (the Commission) is highlighting the valuable work of our own workforce in Aotearoa New Zealand.
Infection prevention and control – a hot topic
During the COVID-19 pandemic IPC has become a hot topic among health care providers, consumers and whānau and Government. Many people now recognise its value and the contribution of our IPC workforce towards keeping our communities safe.
Some of the achievements made by our IPC workforce across the health and disability sector and communities to strengthen IPC knowledge and processes include the following:
The Ministry of Health COVID-19 IPC sub-Technical Advisory Group (which has Commission representation) has provided guidance for numerous national policy and procedure documents.
At a District Health Board (DHB) level, the IPC workforce been pivotal in the planning and implementation of processes aimed at preventing the transmission of COVID-19 and other healthcare-associated infections to our patients, staff and visitors.
DHB and IPC practitioners have provided guidance and support for the aged residential care and disability support sectors.
Safe COVID-19 testing and vaccination centres have been established through the work of DHB IPC practitioners.
IPC practitioners have delivered IPC knowledge and training through numerous education forums.
Our managed isolation and quarantine facilities are kept safe for everyone through the support of local IPC teams.
IPC business as usual
Throughout the pandemic, IPC practitioners have continued with business as usual to prevent healthcare-associated infections and minimise antimicrobial resistance. Their day-to-day activities are supported by the Commission, through its national IPC programmes which include surgical site infection improvement and hand hygiene, supports a more connected IPC workforce. Working together will make an even greater difference to patient safety.
Everyone can make their intention infection prevention!
The pandemic has seen many make infection prevention their intention this year. Health care workers in a variety of settings have joined the fight against infection in their workplace. Consumers and whānau are encouraged to sign in to their location, sanitise their hands, physically distance and wear a face covering when appropriate. The Commission has an online COVID-19 resource hub and through its me kōrero COVID | talking COVID resources, helps clinicians communicate with patients and whānau about COVID-19.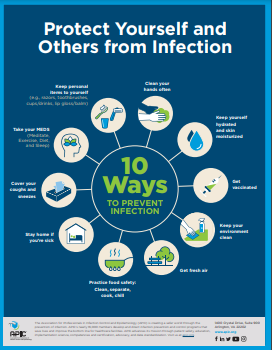 Download the 'Protect Yourself and Others from Infection' poster