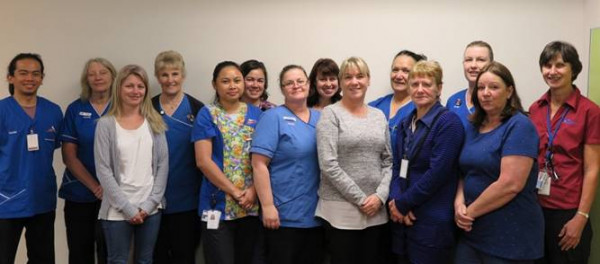 Falls was an entirely new area for me when I was appointed to a new nurse educator role at Lakes District Health Board (DHB) in May 2017. I had previously worked as an infection control nurse specialist and regional coordinator for infection prevention and control, in addition to working as an intensive care and cardiac care unit nurse.
I soon learnt that falls is a big area. A fall can be devastating for the patient, their family and any health care worker involved. Everyone coming into contact with patients needs to be able to identify those at risk of a fall, including phlebotomists, health care assistants and cleaners. If we want to keep patients safe we need to have good systems and processes to prevent falls.
When I first started in this role, Lakes wasn't meeting the quality safety marker (QSM) target of 90 percent of older patients being given a falls risk assessment and care plan.
I undertook a robust review and found a number of different types of assessments and care plans were being used across both Rotorua and Taupo hospitals. In July 2017 we trialled a new form which, after feedback and modification, was finalised in December and rolled out for use at both sites.
There is an associated traffic light patient bracelet falls risk system, which means all health care workers can see at a glance that a patient with a red bracelet is at risk, without having to read their notes or ask a lot of questions. The patient's assessment status and care plan interventions remain the same if they are transferred from one area of the hospital to another – or to another hospital. It's working really well.
The number of falls champions has grown from two or three working in isolation to a network representing every clinical service and ward. We have also established a falls champion partnership plan, which includes services' commitment to ongoing champion education.
It is these falls champions who are making a difference. Their commitment and drive has been responsible for achieving buy-in of the new assessment form and support for these changes.
Connectivity is key. Falls champions now share information with each other through a group email. They also undertake falls audits within their own clinical settings and can evaluate how they are doing in comparison to other areas.
The next step will be to bring the falls champions and the quality and risk team together to review falls data and look at how we can further improve, to reduce our incidence and risk of falls.
Even with this progress, I still felt a bit of a fraud attending the Commission's falls clinical lead meeting in February this year, because I felt I still had so much to learn. But, it came at just the right time because it was energising to hear about all the wonderful progress being made in falls prevention by other DHBs. I returned home excited about the possibilities – not just about the April Falls 'Live stronger for longer' campaign, but also about building on the improvements we'd already made.
Our April Falls campaign focused on the two key areas a gap analysis had told us needed specific education in relation to falls; medication and the proper use of mobility aids, such as walking frames.
Several education sessions at both hospital sites were delivered by pharmacists and physiotherapists. All staff were welcome to attend and we also invited staff from GP practices and aged care facilities to join us.
We all learnt more about medications that are associated with a greater risk of a fall and the co-morbidities that may carry a hidden increased falls risk.
We also learnt about body balance systems – what keeps us upright – and that there are a few quick things to look for in a patient's movement patterns that might indicate a falls risk.
Other sessions covered what community support is available to help patients when they're discharged from hospital, including ACC-approved strength and balance classes, in-home programmes and the fracture liaison service.
So, while I know a lot more about falls prevention than I did this time last year, I'm still learning and enjoying sharing my new-found knowledge with others. As the falls champions progress and grow, so do I, and I'm confident continued improvement will see even better patient outcomes in the future.
None of this could have been achieved without the full support of my director and associate director of nursing, who have given me the freedom to grow this work.
And we know it's those working on the clinical floor who have been willing to make changes, provide feedback and have bought into the concept of improving falls prevention who are making a real difference.
---
Author: Jaylene Harris, Clinical nurse educator and nurse ICI/CCI Lakes DHB