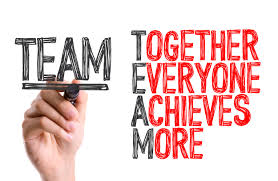 TEAM is an acronym for together everyone achieves more. To accomplish anything, the group or team needs a shared problem or a goal to work towards, and all the necessary players have to be on board. In rugby, the shared problem is to bulldoze, dodge, pass or kick the ball through the opposing team's defence and score a try. One player down, one yellow card, and the team is missing a vital position, giving the other side a chance to take the game.
Similarly, in health care we need diverse perspectives, experiences and energies to solve the problems we face and create positive change. General practice's unique strength is that it is usually conducted within small teams of GPs, practice nurses, receptionists and practice managers. However, in quality improvement (and depending on the problem), these tried, trusted and true 'teamlets' are often necessary but not sufficient. It's highly likely that consumers or patients will be crucial recruits to the improvement team, not to mention other health professionals such as pharmacists, health coaches and community health workers. For any quality improvement process in the team formation stage, it's important to keep revisiting two questions: do we have all the necessary people and roles? And what is the problem?
One of the 2017 Whakakotahi projects, "Living longer and feeling better following a heart attack", aimed to improve the patient journey in the year following an acute coronary syndrome hospitalisation and stenting procedure. At its inception, they wished to gather an integrated team with a consumer voice, people from key hospital services and primary care (including general practices, community pharmacies, a Māori health provider and the local heart foundation).
It takes a cultural change for teams to be really effective rather than being a pseudo-team of co-located people fulfilling different roles. At the 2017 Whakakotahi project teams' second learning session, Commission quality improvement advisor Jane Cullen talked about the human side of change. Two things, she said, really hit home. Firstly, the power of co-creation: people will support what they help to create. Secondly, the degree of resistance to change is wholly dependent on this buy-in. It makes no sense to think about the solutions before all agreeing on what the problem is, and no sense talking about the implementation steps before all agreeing on the solution. Like layers of an onion, the problem agreement comes first, then the solutions, and finally implementation. At last year's Health Informatics New Zealand (HiNZ) Conference, a speaker emphatically said that consumers should always be involved in defining the problem. Quality improvement giant Don Berwick reflected this in saying that patients are the 'true north' – that what matters to them should be our compass and our goal.
For a team to perform well, all members need to be valued and feel safe to speak up. One way to assess team performance is by looking at the team's safety culture – how well does the team work together, communicate, share the workload and address interpersonal and workplace safety concerns? A free resource is the Safety Climate Survey used in the Ko Awatea Safety in Practice collaborative.
So what makes a good team? Many of us will remember from our school days the tendency of sports coaches to go on about 'training as a team and playing as a team'. The reserves were as integral to a team as those in play. When those on the bench were disgruntled by the lack of game time, the coaches re-iterated that 'there is no 'I' in team'. The retort was, of course, 'but there is 'me' (in team)!' All the 'me's' need to share the problem and co-create successful solutions.
Team; together everyone achieves more.
---
Author: Dr Susan Wells is a member of the Commission's primary care expert advisory group and the programme's clinical advisor. Sue's contributions offer insights on the context for primary care quality improvement success. Sue works as an associate professor of health innovation and quality improvement at the School of Population Health, University of Auckland, and before becoming a public health medicine specialist was a GP for 10 years.