Te Rau Ora hosted the annual Toitū Hauora Māori Health Leadership Summit at Te Papa in Wellington on Wednesday 21 and Thursday 22 August 2019.
With a focus on courageous Māori leadership, the forum offered learning opportunities and preparation for the challenges for Māori leadership in the health sector.
Attendees enjoyed networking with Māori leaders and taking part in a range of workshops.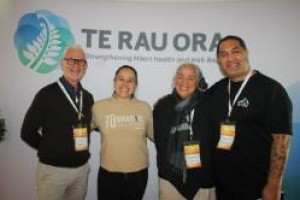 Left to right: Clive Aspin (Health Quality & Safety Commission), Renee Apanui Smith (Te Tihi), Rehia McDonald (Poutini Waiora) and Tawhiti Kunaiti (Te Tihi)
The Health Quality & Safety Commission, as part of our commitment to building capability across the health sector and growing Māori leadership, supported Te Rau Ora to fund five emerging leaders to attend the summit.
Some of their insights are shared below.
Renee Smith, Te Tihi o Ruahine Whānau Ora Alliance
He uri tēnei nō Te Rarawa, nō Ngāpuhi, nō Waikato-Tainui hoki, ko Renee Smith-Apanui taku ingoa. Ko Ngawati Apanui taku makau, nō Ngāti Porou, nō Ngāti Whātua ia. Kei māua he tama, e rua tōna tau, ko Kainau Apanui tōna ingoa. He kaiwhakataka ahau mō Te Tihi o Ruahine Whānau Ora Alliance, kei Papaioea mātou e noho ana.
My name is Renee Smith-Apanui, I have a husband and a two-year-old son. I'm a project manager in Palmerston North for Te Tihi o Ruahine Whānau Ora Alliance.
The calibre of speakers and presentations at the summit were awesome. The opening address by Sir Mason Durie was inspirational, calling those in the room to action for better and more holistic approaches to reaching outcomes for Māori across not only health, but all social systems. This set the tone for the summit, with deliveries by those with lived experience who are now in the health field, our rangatahi who are already leaders in the field, and a range of Māori professionals giving their experiences in the health system.
My personal highlight was the talk by Moana Jackson, who used storytelling to link his past lessons from his koro, to the lessons he teaches his moko, highlighting the revolving nature of leadership within our whānau. I returned to work energised and focused on ensuring my mahi creates positive outcomes for our people.
Rehia McDonald, placement student and Poutini Waiora team leader/Kaitakawaenga, West Coast
Tā Mason Durie's opening address highlighted how Māori were forced to align and adapt themselves to a system which suited pakeha systems and beliefs, instead of Māori. He highlighted Māori-centred frameworks and services that work for Māori such as Te Whare Tapa Wha launched in 1982. This framework is still used, in predominately kaupapa Māori health services; why use other models when this one works perfectly for Māori!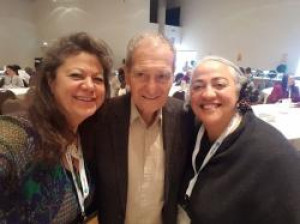 Left to right: Tina Parata, Tā Mason Durie, Rehia McDonald
Khylee Quince, who has worked with Māori and Pasifika law students for most of her 20 year academic career, spoke about whānau stories and how to get this right and honour the story they are telling you. She also highlighted how colonisation has impacted on Māori whānau and has had detrimental effects on the lives of many indigenous communities throughout the globe.
Debbie Rawiri, University of Canterbury student and Māori diabetes nurse
The summit was rewarding and enlightening. Moana Jackson talked about Māori leadership through his lived experience. I have been studying Māori leadership and have been looking for examples of how to lead and the qualities required of a successful leader. After listening to Moana, I learnt that I have been surrounded by Māori leadership since the time I was born and didn't even realise it. Look around and you will see leaders everywhere. Most importantly look within, this is the leader that others see, this is me!