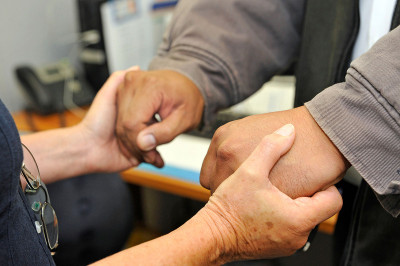 Six primary care provider teams are about to embark on a year of improvement as Whakakotahi 2018 kicks off.
The Whakakotahi initiative is designed and driven by the primary care sector. Providers identify areas they want to improve in their practice. They are supported by the Commission to learn about and implement quality improvement methods.
The project teams work with consumers/whānau and other providers and community groups to design the quality improvement approach and adapt it to their local context. Learnings are shared with the primary care sector and broader health and quality improvement communities.

The successful projects for 2018 are:
The Fono, Tāmaki-makau-rau (Auckland)
Working with the Auckland Tuvaluan community to develop and test culturally appropriate methods to address health inequities in skin and soft tissue infection (SSTI) rate, prevention and treatment for Pacific people and Māori.


Turanga Health, Tūranga-nui-a-Kiwa (Gisborne)
Developing a primary care approach which works for Māori whānau via a workplace wellness platform. Mobile health staff can provide care to whānau at work and home and engage high-risk patients in follow-up care.


Gonville Health, Whanganui
Targeting the new patient process at their Very Low Cost Access Practice. Increasing the accessibility, patient-friendliness and efficiency of the process with a view to increasing patient health literacy and self-management, quality of care and cultural appropriateness.


Unichem Russell Street, Te Matau-a-Māui (Hawke's Bay)
Working in partnership with local asthma foundation branch, Breathe Hawkes Bay, and local GP practice, The Doctors Hastings, to reduce respiratory disease-related hospitalisation and GP visits in Māori and Pasifika children aged 0-18 years old.


Linwood Medical Centre,

Canterbury District Health Board Diabetes Service, Ōtautahi (Christchurch)
Working with complex diabetes patients to improve the quality of their care and developing pathways for increased health literacy and self-management.


West Coast PHO,

Poutini Waiora

and West Coast DHB, Tai Poutini (West Coast)
Moving toward increased self-management and community-based, patient-centric care for patients who are pre-diabetic/at high risk of cardiovascular disease. Improving detection of these conditions to prevent/delay their onset.
A member of each project team is enrolled in the Primary Care Quality Improvement Facilitator programme (PCIF), delivered by Ko Awatea and the Commission's primary care and capability programmes. The course begins on 23 January. Members of the primary care programme team will visit each Whakakotahi project site in early March.
Dr John Wellingham, a practising GP and member of the Whakakotahi selection panel and chair of the Commission's Primary Care Expert Advisory Group, says, 'Congratulations to the providers selected. The Commission looks forward to building on our learnings from the first year of Whakakotahi, sharing our quality improvement knowledge and resources, and learning from the experience of the teams as we support their projects'.
Jane Cullen, Quality Improvement Advisor to the Commission, says 'I'm really looking forward to working with the successful teams this year. Based on the high caliber, exciting proposals presented by all of the applicants this year, I strongly encourage everyone to reapply next year and consider enrolling in the PCIF. It's been amazing to see the wonderful improvement work that providers are developing.'