The Linwood Medical Centre & Canterbury District Health Board (DHB) diabetes integrated specialist clinic in Christchurch is one of the six successful initiatives supported by the Health Quality & Safety Commission's Whakakotahi 2018 primary care quality improvement challenge.
The Linwood Medical Centre is a recently merged collective of four practices with a total enrolled population of over 10,000 patients.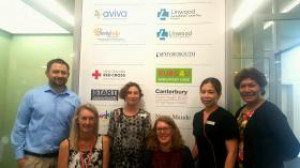 Staff from the Linwood Medical Centre involved in the Whakakotahi primary care quality improvement challenge.
General manager Zach Muhrer says the medical centre has 664 enrolled patients with diabetes.
'Of these people, a large number have an HBA1c exceeding 90mmol/mol (a high reading) who have previously been referred to but have not attended or discontinued their care with the specialist centre.
'There are many complex reasons as to why patients do not attend their specialist appointments. Our hope with developing integrated clinics, is that we will be able to support greater equitable care delivery, enhance consumer experience and promote patient empowerment to manage their condition.'
In partnership with patients/consumers, general practice, community teams, pharmacists and the secondary care specialist service, the project will focus on enabling patient engagement, co-designing and embedding a successful specialist / primary care model for diabetes care delivery that is closer to home and enabling greater access to ongoing specialist support.
The project seeks to improve both the patient's and practice team's routine diabetes care, targeting health literacy, developing self-management skills and introducing helpful tools to promote living well with diabetes. In addition, it will build confidence in complex diabetes management for health professionals. Primary care will be supported with specialist diabetes skills and knowledge, grow confidence and capability to provide an increased level of diabetes management, independent of the specialist service.
Ideas for change range from the full inclusion of consumer groups through co-design, specialist clinics, evening or weekend clinics, online health information navigation, nurse/dietician clinics, telehealth and advanced technologies plus shared information/documentation records.