The first Whakakotahi group learning event was held in Wellington on 23 May 2017.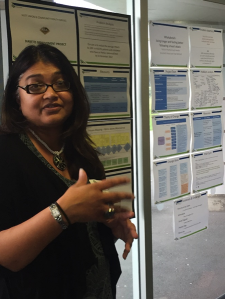 Sandy Bhawan, Clinical Pharmacist from Hutt Union & Community Health Services in Pomare, describes their diabetes improvement project.
The meeting was an opportunity for team members from participating improvement teams to come together to share their work, network, and learn from each other.
The first three teams to be involved in Whakakotahi include:
Hutt Union & Community Health Services/Te Awakairangi Health Network
Papakura Marae Health Clinic/National Hauora Coalition
Nelson Marlborough DHB, Mapua Health, Tima Health, Harley Medical, and other primary care providers.
The day involved storyboard presentations by each team about their identified improvement area (eg, aim statement, problem definition, driver diagram (theory of change), workshops - focused on equity considerations and co-design (consumer partnership) principles - and a practical session about analysing improvement data (creating run charts).
During the next phase the improvement teams will confirm their measures, collect data, and test their innovative ideas to address the problem they are working on.
The second group learning event will be held in September/October 2017.
For further information contact: john.kristiansen@hqsc.govt.nz (primary care project manager) or jane.cullen@hqsc.govt.nz (quality improvement advisor).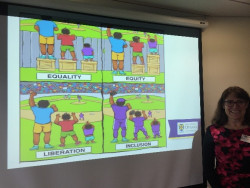 Dr Sue Crengle, Invercargill GP and Associate Professor, Otago University, explains equity principles to the Whakakotahi project teams.