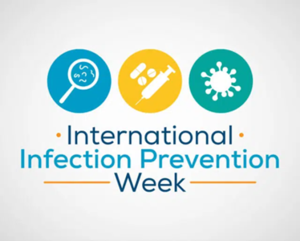 COVID-19 confirms what we've always known: infection prevention and control practitioners (ICPs) play a crucial role in keeping us safe and healthy. In addition to fighting a global pandemic, the infection prevention and control community is protecting us from surges in healthcare-associated infections, flu and other respiratory infectious diseases, measles outbreaks, and many other day-to-day infectious battles.
As we move forward after this wave of the pandemic, we invite you to think about how you can also help prevent infections in your home, workplace, or healthcare facility you may visit.
Every year, International Infection Prevention Week (IIPW) aims to shine a light on the infection prevention profession. This year's theme, 'The Future is Infection Prevention', focuses the next generation of ICPs on joining the battle against healthcare-associated infections.
What's happening this week
On Wednesday 19 October, there's a webinar for residential care providers entitled 'Looking to the future for infection prevention and control in residential care'. Register here for the webinar.
Read our interview with established infection prevention specialists Lorraine Rees (

n

urse

m

anager

i

nfection

p

revention and

c

ontrol

at

Te

Whatu

Ora

– Health New Zealand

Te

Pae

Hauora o

Ruahine

o

Tararua

Midcentral) and Jane Barnett (national infection prevention and control programme lead at Southern Cross Healthcare).
Resources
Find out more about the Commission's infection prevention work  here

and

education

opportunities for IPC practitioners

here

.

Visit the Infection Prevention & Control Nurses College website for information and courses for new ICPs.
The Association for Professionals in Infection Control and Epidemiology

is a great source of official information. See

IIPW resources.