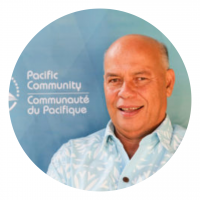 The Health Quality & Safety Commission (the Commission) congratulates board member Sir Collin Fonotau Tukuitonga on receiving a knighthood for services to Pacific and public health.
Sir Collin, who is well known for his long service and dedication to public health and Pacific peoples, has been a member of the Commission board since April 2020. He was named a Knight Companion of the New Zealand Order of Merit in this year's Queen's Birthday and Platinum Jubilee Honours list.
Sir Collin was born in Niue and has dedicated his life to bettering public health, and Pacific health in particular. This has included establishing a cancer control strategy, managing Aoteraoa New Zealand's response to the Severe Acute Respiratory Syndrome (SARS) threat and consulting on the painted apple moth programme in west Auckland.
In the 1990s, he was vital in the establishment of the Department of Māori and Pacific Health and the University of Auckland, where he became the inaugural associate dean (Pacific) at the Faculty of Medical and Health Science. Sir Collin also established the university's international health programme in 2007. He is now the Associate Dean Pacific and Associate Professor of Public Health there.
Sir Collin worked as director general of the Secretariate of the Pacific Community, based in New Caledonia, and is a former chief executive for the Ministry of Pacific Island Affairs. He also founded the first Pacific community-owned health clinic: The Fono.
Most recently he played a large response in Aotearoa New Zealand's national COVID-19 response, helping to communicate vital information to Pacific communities.
The Commission is proud to have someone with such a passion for improving and standing up for the health and lives of Pacific peoples on its board.
Queen

'

s Birthday and Platinum Jubilee Honour

for Dr John Tait
The Commission also congratulates Dr John Tait, Chair of the Perinatal and Maternal Mortality Review Committee (PMMRC), who has been made an Officer of the New Zealand Order of Merit (ONZM) for services to obstetrics and gynaecology.
Dr Tait has been a member of PMMRC since 2017 and has served as the chair since 2018. He has been a consultant obstetrician and gynaecologist in Wellington for over 35 years and is Chief Medical Officer at Hutt Valley and Capital & Coast district health boards, a position he has held since 2016.