Hutt Valley DHB and Nelson Marlborough DHB, with support from the Health Quality & Safety Commission have produced a new medication chart for use by district nursing in the community.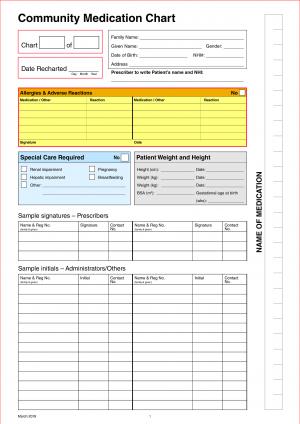 Modeled on the national inpatient medication chart, the community medication chart provides:
one chart per medicine
spaces for 156 medicine administrations
a section for intravenous and subcutaneous fluids and additives
allergies and adverse reactions section
specimen signatures/initials section to aid identification of prescribers and administrators
structured letter format for clarity of the hand-written medicine name.

Associate clinical nurse manager in community health at Hutt Valley DHB, Maree Southward, says they used to use a separate medication prescription sheet and administration signing sheet which was not best practice'This new chart is much clearer, and we now meet certification requirements. Legibility has improved - and prescriptions are so much clearer now.
'With the many administration signing spaces for long-term treatment GPs only need to provide a new prescription every three months now.'
The chart is printed to order. Please place orders directly with the printer.
Supplier
Spectrum Print, PO Box 2566 Christchurch 8140.
Product
Community Medication Chart (A3 to A4) offset
With drilled holes
For further information please contact info@hqsc.govt.nz