Wanting better management of her baby daughter's severe facial eczema was behind a Hamilton practice nurse creating a clinic that is delivering great results for the practice's under five-year-olds suffering from the painful skin condition – and their families.
West Hamilton's South City Health practice nurse Melissa Castillo's fourth child developed severe facial eczema at five months, which resulted in her being admitted to hospital to have intravenous antibiotics.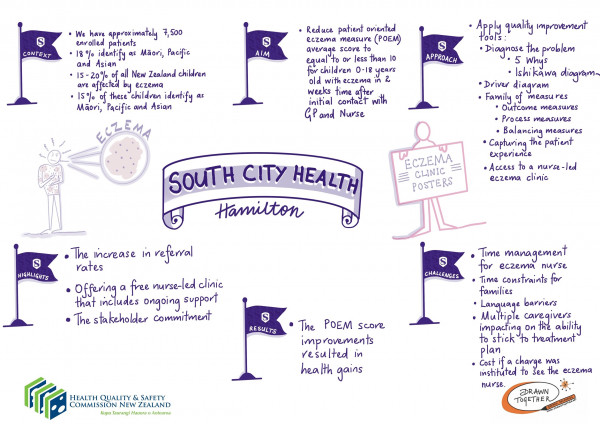 Storyboard summarising the project's aims, approach and outcomes
'I'm a nurse, but I'm also a mum and I knew if I was finding it difficult to manage my daughter's eczema, others must be too. We knew our patients were being seen by a GP and medication was being prescribed, but the parents would sometimes be back within a week with no improvement in the child's eczema.'
Mrs Castillo says language barriers, different carers and a fear of using steroid cream all contributed to the problem.
'I thought there had to be a better way to improve outcomes for these children and their families and came up with the idea of a free nurse-led clinic straight after the child had been seen by a doctor.
'It gave me an opportunity to learn more about the family's lifestyle and routines, to answer their questions and make sure they understood when and how to apply the moisturising cream and medication. Together, we came up with an individual management plan for each child.
'This can be put on their fridge and copies made for grandparents or day care, to make it easier for everyone caring for the child to follow the plan.'
The families of 10 children with severe eczema were offered the post-GP visit nurse clinic, right after the consult, and at one week, one month and three months, as well as a telephone consultation.
The project was one of nine from primary care provider teams from around the country selected for the Health Quality & Safety Commission's 2019 Whakakotahi quality improvement programme.
Primary care teams were supported by the Commission to implement quality improvement projects in an area of patient care they wanted to improve that was important to their patients and community, and to them as providers.
All the projects supported the Commission's three primary care strategic priority areas of equity, integration and consumer engagement. Equity was given greater importance in the Whakakotahi 2019 selection criteria.
A member of each project team was also offered a position on the primary care quality improvement facilitator course delivered by Ko Awatea and the Commission's primary care and capability building programmes.
Mrs Castillo says management of eczema in young children is more important than the cause, which may never be found.
'With eczema, skin cells are far apart. Moisture evaporates, leaving the skin dry and, because of the gap between cells, bacteria that normally stays on their skin and doesn't cause any harm can easily get in between those spaces and cause oversensitivity, flare-ups and infection.
'When moisturiser is applied right after a bath/shower when everything is nice and open, some layers of the skin will absorb it. If you check the skin after an hour, you will notice the skin is dry again because parts of the skin will have absorbed the cream, so you need to apply another layer of cream to seal off the skin.'
She says there's a lot of fear about steroid cream which is often underused. 'Some parents weren't using it at all because they were afraid of side effects they'd heard about, such as kidney issues, thinning of the skin or skin discolouration, so the clinics were an opportunity to address those concerns.'
The team used the internationally recognised patient-oriented eczema measure (POEM) tool to monitor eczema severity. It focuses on the patient's experience of their eczema – or the caregiver's, in the case of very young patients.
The goal was to reduce the POEM score of the project's patients to less than 10 out of 28. The parents of eight of the 10 children reported great improvement around five days after their nurse clinic and have continued to have good eczema management.
'The other two children both have multiple carers, and unfortunately this, along with communication barriers, has meant they haven't experienced any overall improvement.' Mrs Castillo will continue to work with them and hopefully see some improvement in the future.
She says the project team was keen to improve the quality of life for the whole family, not just the patient with eczema.
'Our before and after surveys showed really good feedback. The parents really appreciated having the extra time to have information explained to them and to ask questions. Sometimes the parents just needed someone to talk to.
'In general, because the child was sleeping better, so was the rest of the family, and parents and caregivers had developed confidence in applying the steroid cream.
'We have one patient whose mum told us she used to have to change her child's sheets every day because they were covered in blood from her child scratching at night. After three days she didn't need to do that.'
South City Health practice manager, Teresa Waitere, says it was great to have the support of the Commission's quality improvement team throughout the project.
'They were really supportive and, to be honest, pushed us through it, especially in terms of formalising data collection and management, instead of just relying on our notes.'
The clinic is now offered to the parents of all children aged 0–5 who have eczema.
'We have all the tools and skill sets now and all the practice's 10 doctors are on board and refer their patients to Melissa.
'We're looking forward to sharing our results with the primary health organisation so other practices can benefit from this project too,' says Ms Waitere.
Another unexpected benefit has been a closer relationship with Waikato Hospital's dermatology specialists who, having heard about the project, have now approached South City to be involved in a mole mapping clinic. They are taking additional photos of suspicious moles instead of patients having to attend specialist appointments in Auckland.