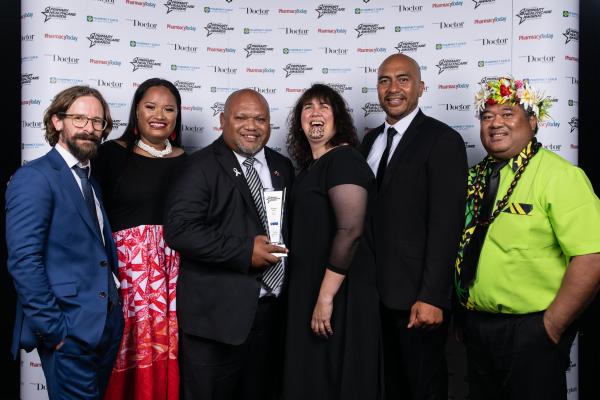 The Fono team, which won the Ministry of Health Equity Award at the New Zealand Primary Healthcare Awards for its 'Happy Skin' project.
An award-winning quality improvement project to reduce the rate of skin and soft tissue infections (SSTIs) among under-25-year-olds in West Auckland's Tuvaluan community has been so successful, it's hoped it can be extended to other Pacific communities.
Auckland health and social services provider The Fono recently won the Ministry of Health Equity Award at the New Zealand Primary Healthcare Awards for its 'Happy Skin' project.
The project was undertaken as part of the 2018 Whakakotahi quality improvement programme, which aims to increase quality improvement capability in primary care and support the key focus areas of equity, integration, consumer engagement and consumer co-design.
Successful providers are supported by the Commission to implement quality improvement projects in an area of patient care that is important to their patients or community and to them as providers.
The Commission's primary care programme team supports and mentors participating teams through site visits and group learning events. A member of each project team has also been offered a position on the primary care quality improvement facilitator course delivered by Ko Awatea and the Commission's primary care and leadership capability programmes.
Skin infections had been on the rise in the Tuvaluan community since 2013, even though overall rates in Pacific communities had declined. The 'Happy Skin' project aimed to reduce the rate of SSTIs among under-25-year-olds in West Auckland's Tuvaluan community by 25 percent, but actually achieved a more than 40 percent reduction.
The equity gap also decreased between the Tuvaluan population and other Pacific groups from 9 per 1,000 patients to 5 per 1,000, and from 16 per 1,000 to 9 per 1,000 for non-Pacific groups.
The project's quality improvement facilitator, Janet Masoe-Hundal, says it was successful because it was driven by the Tuvaluan community working with staff across The Fono's primary health, public health and social services units, and involving churches.
'We went to the Tuvaluan community and asked them what they wanted us to do to help them solve this problem. Church is the equivalent of a marae for the Tuvaluan community and the community leaders used their authority in the church to motivate people.
'They even wrote a "Happy skin" song because, for the Tuvaluan community, any occasion is an opportunity to sing,' says Janet.
Key messages included the importance of washing hands and dishes properly, and reporting sores early so they could be treated.
'We're proud of our result and the raised awareness of the problem and are delighted to have its success recognised with this prestigious award.
'We're now looking at how we can move to the next stage and will definitely look to work with the churches again. Feedback from the Tuvaluan community is that they would like more practical workshops – things like demonstrations on correct handwashing and how to apply creams.'
'We'd also like to be able to develop more resources to help raise awareness, such as brochures in Tuvaluan.'
She says The Fono would like to be able to extend the project to other Pacific communities where skin infections are an issue.
The Fono chief executive officer, Tevita Funaki, says the project set an example for Pacific primary health partnerships involving integrated health and social services. He paid tribute to the inspiration of The Fono's retired clinical director and project lead, Dr John Kennelly.
'We are also grateful to the churches that got behind the project and played a vital role in its success.'
More information on Whakakotahi can be found here.