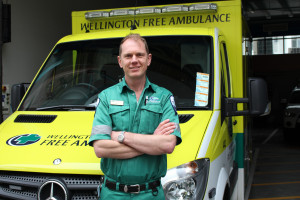 Most of us can only imagine what having someone die in front of us would be like, but it's part of the job for Wellington paramedic, Sean Thompson.
Sean has worked for over 20 years in emergency medicine, and attends a cardiac arrest in a home most weeks.
After watching many unsuccessful resuscitation attempts and subsequent deaths, he decided to delve more deeply into the impact of unsuccessful resuscitation on patients' families and emergency staff.
Research for his Masters in professional practice showed there is often ongoing trauma, and emergency staff sometimes see the family as the 'forgotten patients' in these situations.
'When we attend cardiac arrests, 70 percent of those patients will die. We transport about 37 percent to hospital. Twenty percent of those will die in hospital and 17 percent come home. That doesn't tell you anything about their future quality of life though,' says Sean.
'I wanted to know how paramedics cared for the patient's family at the time and the ongoing impact on their grief, trauma and, potentially, post-traumatic shock.
Sean says communication is a huge part of the job for paramedics, but it needs to be tailored to the individual or whānau. 'They have to ask themselves what is going to be most useful for the whānau at this time of crisis. There is also no follow-up service, which is why I call them the forgotten patients.'
'It's not only the family who can be traumatised. The emergency staff can be too. Now there are double call-outs to emergencies with ambulance and the fire service attending, as well as police for unexpected deaths. Some of these big burly guys are in tears in the hallway. They need more support.'
He would like to see more training in psychosocial areas for staff across emergency services who may not feel prepared to comfort whānau who are in shock and grief.
Sean also became interested in the concept of advance care planning, which encourages patients and their loved ones to talk about what is important to them in their health care.
An advance care plan is a way to explore what is really important to you in the care that you receive from doctors, nurses and other health professionals. It can give patients a sense of agency and involvement in their health care and help them to make decisions along the way about what kind of care and treatment they do and/or don't want.
'Often we find some patients will never have had discussions about what they would like to happen in their last days – or what a natural death looks like. So, they find themselves in a critical or moderately critical moment and it's up to the paramedics to open up that discussion. We are not trained in hospice or palliative care, but we are usually empathetic and compassionate people who are pretty good at having challenging conversations with people.'
He often wishes families had had that conversation before getting in the back of the ambulance with their loved ones.
'They have called us because they have hope and don't know what to do, but it doesn't necessarily mean they have to have intervention, they just need reassurance. The role of paramedics needs to be more than a clinical intervention, more towards that of a compassionate communicator.'
Sean teaches paramedics at Whitirea New Zealand and his students have also become more aware of their changing role.
'The modern paramedic needs to have a three-year degree to enter the training. However, a lot of the clinical communication is gleaned from being on the job.'
The national advance care planning programme has developed a campaign to encourage people to talk to each other more, Kia kōrero | Let's talk advance care planning. It features six stories of a diverse group of people who have talked with their loved ones about what is really important to them now and towards the end of their lives.
To discover more about advance care planning visit www.myacp.org.nz.