Camp Unity is a two-day event which brings together families and whānau, including parents, children and guardians affected by traumatic brain injury. The 2019 camp was held from 11–13 October in Rotorua.
Te Rina Ruru, member of the Health Quality & Safety Commission's Partners in Care consumer network, created the camp to bring vulnerable children together in a safe and secure environment where they are free to be themselves.
Te Rina is an advocate for whānau living with a family member's trauma. She has seen first-hand the gaps in support for children and young people working through trauma and low self-esteem, following a car accident which left her brother Ray with a traumatic brain injury.
This was Te Rina's inspiration to create Camp Unity – to develop strength and unity and form healthy relationships, teaching children to understand their individuality and develop their self-worth.
The camp also provides an opportunity for children and their whānau to connect and feel the support of others going through similar challenges.
The Commission's Partners in Care programme supported the camp by funding artists to illustrate the thoughts and feelings of everyone who attended. The result is a series of powerful illustrations which show the 'ripple effect' – the far-reaching impact a traumatic brain injury can have on everyone in the whānau.
Te Rina says the illustrators captured the families' stories perfectly.
'I watched people look at them with tears streaming down their faces.
'The camp was amazing. I still get emotional when I think about it and the positive impact it had on everyone that attended.'
The illustrations can be viewed below. A beautiful video about the camp is also available to watch here.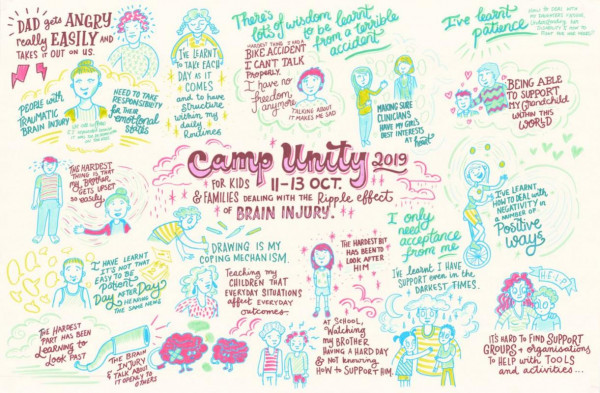 Click here to view the full size image.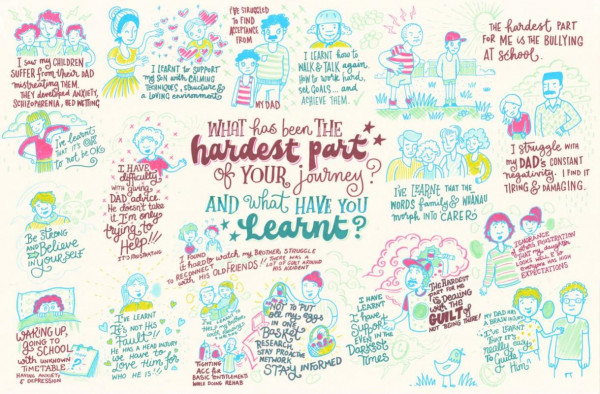 Click here to view the full size image.