The Health Quality & Safety Commission thanks outgoing consumer network and consumer advisory group member, Martine Abel-Williamson, for the valuable contribution she has made to the Commission's work programmes over the past seven years.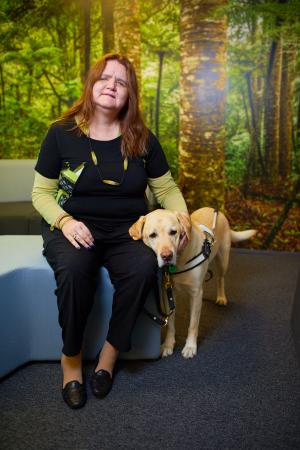 Martine at the Commission's Wellington office, with guide dog Westin.
Martine recently stepped down from her positions on the consumer advisory group to the board, a position she has held since 2017, and the Partners in Care consumer network which she has held since 2014. Martine provided her expertise as a consumer representative to many other projects and programmes across the Commission, including as a member of the patient deterioration leadership group from August 2016.
'Martine's willingness to support the Commission's work over the last seven years has been greatly appreciated,' says Dr Chris Walsh, director of the Commission's Partners in Care programme.
'She has provided considerable expertise and wisdom from a consumer perspective, particularly for people living with a disability.
'She helped us understand the perspectives of different groups and how to include their views in the work we do and gave balanced and thoughtful consideration to the challenges of the disability sector.'
We have all appreciated the balanced and thoughtful consideration Martine gave not only to the challenges of the disability sector, but also to identify how and where efforts were needed in health services for all consumer groups.
The Commission board, staff, members of the consumer advisory group, consumer network and the patient deterioration leadership group all wish Martine the best in her new role; Martine has taken up a senior role with the Human Rights Commission.
Commission staff will also miss the presence of Westin, Martine's faithful and well-behaved guide dog, whenever she visited.
'Martine's contribution will be greatly missed but we wish her all the best and know that she will continue to represent the voices of people with a disability in her future work and activities.