Congratulations to consumer network member Bernadette Pereira, who has been appointed a Member of the New Zealand Order of Merit in the Queen's Birthday Honours 2020.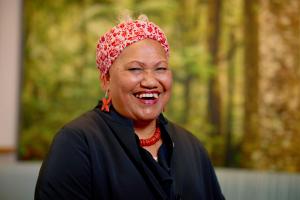 Bernadette has been a valued member of the Commission's consumer network since 2018 and also featured as a consumer voice in our understanding bias in health care videos, developed for Wiki Haumaru Tūroro | Patient Safety Week 2019.

She serves on the board of trustees for a Pacific clinic in Otara, South Auckland, and she has personal experience as a consumer of health services. She is the national president for Pacifica Incorporated and has done a lot of work helping Pacific mothers and families settle into their adopted country of New Zealand.

'We are absolutely delighted Bernadette has been recognised for her services to the Pacific community and women,' says Dr Chris Walsh, Director of the Commission's Partners in Care programme. 'Her many years of community service and wealth of knowledge are a valuable asset to our consumer engagement work in the health and disability sector.'
Congratulations, Bernadette, from everyone at the Commission.