The Health Consumer Advisory Service presented at the Health Quality & Safety Commission's Partners in Care consumer network meeting last month. The purpose of the presentation was to strengthen ties between the two groups and learn more about each other's work.
The presentation formed part of the consumer network's regular quarterly meeting, held in Wellington on 18 October.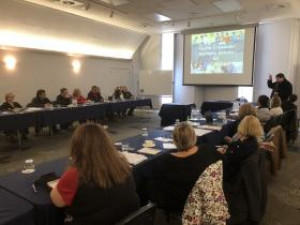 The Health Consumer Advisory Service gives a presentation to the Commission's consumer network.
The Health Consumer Advisory Service was established by the Ministry of Health in 2015. Its purpose and role are to engage consumers directly in the design, planning and development of more effective health services, systems and support in health services across New Zealand, for those affected by long-term conditions.
It is a free service and, along with DHB consumer councils, adds to the diversity and strength of the consumer voice throughout New Zealand.
More information about the advisory service is available on the Health Navigator website: www.healthnavigator.org.nz/healthcare-in-nz/advisory-service.