Consumer network member, Martine Abel-Williamson attended the launch of a new guide last month, which aims to help people with a disability navigate the process of making a complaint to the United Nations.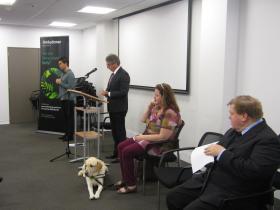 In 2008 the New Zealand Government endorsed the United Nations Convention on the Rights of Persons with Disabilities (CRPD). This means the Government has a duty to protect and promote the human rights of all people with a disability.

The CRPD is an international agreement. Its purpose is to make sure people with a disability are treated with dignity and respect and have the same rights as everybody else. Governments that have endorsed the CRPD have a duty to work towards a more inclusive society by making their policies and laws align with what the CRPD says.

In 2016, the Government also endorsed the CRPD Optional Protocol (CRPD-OP). The protocol gives people with a disability, who think their human rights have been denied or abused, a way to make a complaint to the UN Disability Committee – the committee responsible for the CRPD.
Making complaints to the United Nations Disability Committee: A Guide for New Zealanders provides information about how to make a complaint based on the CRPD-OP.
'Now that New Zealand has signed up CRPD-OP we as individual disabled persons and those who wish to make a complaint on a disabled person's behalf, may do so, and New Zealand now has its own guide to support people through that process,' says Martine.
'The guide is a resource intended to enable and empower the disabled community to feel confident when making a complaint about their rights or treatment.'
This guide sets out information and the steps you need to take before you can make your complaint to the United Nations Disability Committee. It is available to download in a variety of accessible formats on the Office of the Ombudsman's website.
Related Resources