The Bay of Plenty District Health Board (DHB) recently launched a booklet and online training course designed to improve the way staff communicate with patients living with disabilities (tāngata whaikaha).
The resource Do you really see me or just my disability? was developed by Bay of Plenty DHB quality and patient safety coordinator Cheryl Shearer and tells the stories of seven people living with disabilities. It is available as a booklet and forms part of an online training course.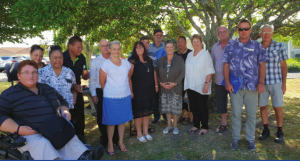 Above: Cheryl pictured (centre) with the patients featured in the booklet, and their family and whānau, at a presentation for those who shared their story.
Cheryl developed the booklet after seeing how staff communication impacts patients living with disabilities and their family and whānau, particularly those with concerns about their medical care.
She hopes the stories will help staff better understand the importance of communicating with patients and their families and whānau in a way that is best suited to the individual patient.
'Communication has a big impact on patients and how we make them feel during their time in our care,' says Cheryl.
'These people have very different life experiences but what ties their stories together is a desire to be treated with dignity and respect. Seemingly simple things like greeting a person and asking them if they need assistance, before doing anything else, are really important.'
Dr Chris Walsh, Director of Partners in Care at the Health Quality & Safety Commission says it is a powerful resource and outlines simple ways to help staff improve communication with their patients.
'There are many common themes identified by the patients who shared their stories, which all staff working in the health sector will find useful and relevant to their work.'
The booklet is available to download below.
Related Resources