Congratulations to Auckland health and social services organisation, The Fono, for being selected as a finalist in the inaugural New Zealand Primary Healthcare Awards | He Tohu Mauri Ora.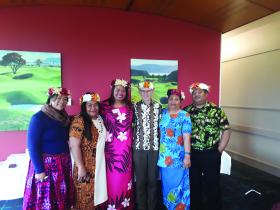 Pictured: Temasi Kitara, Laine Lekasa-Steven, Janet Masoe-Hundal, John Kennelly, Tauliani Monise, Elena Tauliani. Absent members, Mileta Esela and Helen Ho
The awards recognise excellence in primary health care and encourage collaboration and innovation. The Fono is a finalist in the Ministry of Health equity award category.
The Fono's 'Happy Skin' project, undertaken as part of the Health Quality & Safety Commission's Whakakotahi quality improvement programme, reduced the rate of skin and soft tissue infections among under 25-year-olds in West Auckland's Tuvaluan community by more than 40 percent.
The Whakakotahi programme aims to increase quality improvement capability in primary care and support the key focus areas of equity, integration, consumer engagement and consumer co-design.
Successful providers are supported by the Commission to implement quality improvement projects in an area of patient care that is important to their patients or community and to them as providers.
The Primary Health Care Awards are organised and co-hosted by The Health Media Ltd and the Pharmacy Guild of New Zealand Inc and replace the 28-year-old Pharmacy Awards. Winners will be announced on 29 February.