A new consumer poster is now available in English and te reo Māori to help patients, caregivers, families and whānau talk about medication with their health care providers.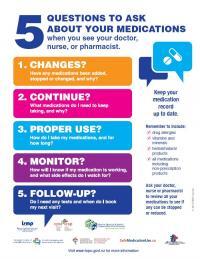 Good communication between patients and health professionals helps to reduce the risk of medication-related harm. Patients are at particularly high risk of fragmented care, adverse drug events and medication errors during 'transitions of care', where a patient moves between one care setting and another.

It is therefore important for patients to be active partners in their health care so they have the information they need to use their medication safely. To support them to do this, the Commission has adopted the following Canadian[1] set of five questions, and adapted a poster for consumers (available in English and te reo Māori):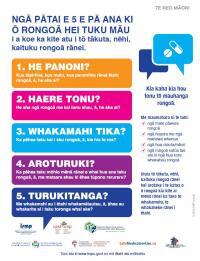 Changes? Have any medications been added, stopped or changed, and why?
Continue? What medications do I need to keep taking, and why?
Proper use? How do I take my medications, and for how long?
Monitor? How will I know if my medication is working, and what side effects do I watch for?
Follow-up? Do I need any tests and when do I book my next visit?
Patients can ask these questions whenever they see a health care professional, for example:
at a doctor's appointment (eg, general practitioner or hospital specialist)
when seeing a practice nurse or nurse practitioner
on discharge from hospital
when interacting with community pharmacists, dentists or midwives.
The five questions can also be used by health care professionals when talking to patients about any changes to their medication.
---
We would like to thank the following agencies who have given us permission to use their '5 questions' material and translate it into te reo Māori: the Institute for Safe Medication Practices Canada, the Canadian Patient Safety Institute, Patients for Patient Safety Canada, the Canadian Pharmacists Association and the Canadian Society for Hospital Pharmacists.
---
Last updated: 1st July, 2022