This poster and quick reference card list abbreviations, symbols and dose designations that have been reported internationally as being frequently misinterpreted and involved in harmful medication errors. They should NEVER be used when communicating medicine-related information verbally, handwritten, pre-printed or electronically.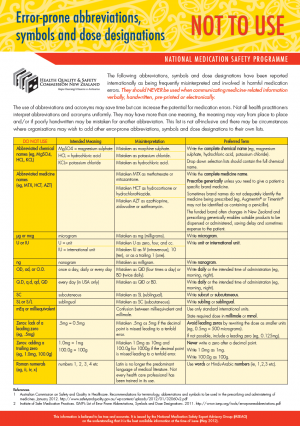 The poster may be printed for display purposes in A4 or A3 size and in colour or black and white. You can print your preferred option by changing the settings on your printer.
The smaller card may be printed and laminated and used as a quick reference point. The card has been designed with a punch hole for use on a lanyard or may be kept to hand in a wallet or pocket. The attached file may be printed double sided and the individual cards cut out and laminated. (Note, if your printer does not line up perfectly then you may need to print single sided and laminate together.)
For more information on this topic please see Alert 4: Abbreviations when prescribing medicines
Related Resources
Click here for information on the FDA/ISMP Campaign to Eliminate Dangerous Abbreviations in the United States.
---
Last updated: 1st July, 2022