Co-design is rapidly becoming an essential part of quality and improvement in health and care services internationally.
In Aotearoa New Zealand, the Health Quality & Safety Commission and its Partners in Care programme are leading the promotion, use and support of others to use co-design.
As a health professional or consumer, you may hear the term 'co-design' used in conversations about work in the health and disability sector and government agencies. The term also appears in policy documents and strategic plans across many agencies and services.
The increase in use of the word co-design has led to different approaches and sometimes misunderstandings about the principles and meaning behind it.
So what is 'authentic' co-design and how do we do it?
Authentic co-design is, importantly, a process. It involves 'doing it together' from the start to the finish, namely, engaging with consumers, providers and other stakeholders to capture their experiences of services. Tools are used to gather information to understand these experiences, then consumers, providers and other stakeholders work together in a process to improve services.
The term co-design is commonly used in the sector when in fact some of the steps we would expect to see in an authentic co-design process are missing. Examples might include organisations running focus groups or hui with consumers to get feedback on resources like information pamphlets and calling this co-design. Or consumers might give feedback on pamphlets that they don't believe contain the information they need; they feel it would have been better to focus on something else altogether. If the process of co-design had been followed in these examples, the solution may not have been pamphlets at all.
The Commission has adopted co-design because it unashamedly involves consumers across projects, particularly at service delivery level. It invites consumers and providers to work together in a structured and respectful way for improvement – that means following all the steps in the co-design approach (see Figure 1).
Figure 1: Co-design approach at service delivery level (source: Lynne Maher, Ko Awatea)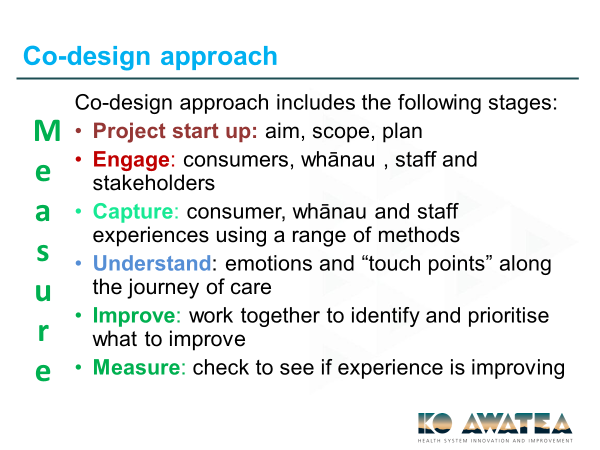 What are the different levels of co-design?
Co-design can happen at different levels, including direct care, organisational or service delivery, and governance.[1]
At direct care level the clinician and consumer engage in shared decision-making about treatment planning and care. Here, the term co-design applies in the broadest sense.
At the service delivery level co-design offers more scope and opportunity to use the authentic and entire co-design process. (Figure 1 above shows the co-design approach specifically at the service delivery level.)
At the governance level, if consumers are sitting 'at the right table at the right time' and are confident to contribute when decisions about health services are being explored, discussed and decided, this too is a form of co-design but only if there is shared leadership and true partnership.
The Carman model (Figure 2) is a useful reference when trying to align co-design with true partnership.
Figure 2: The Carman model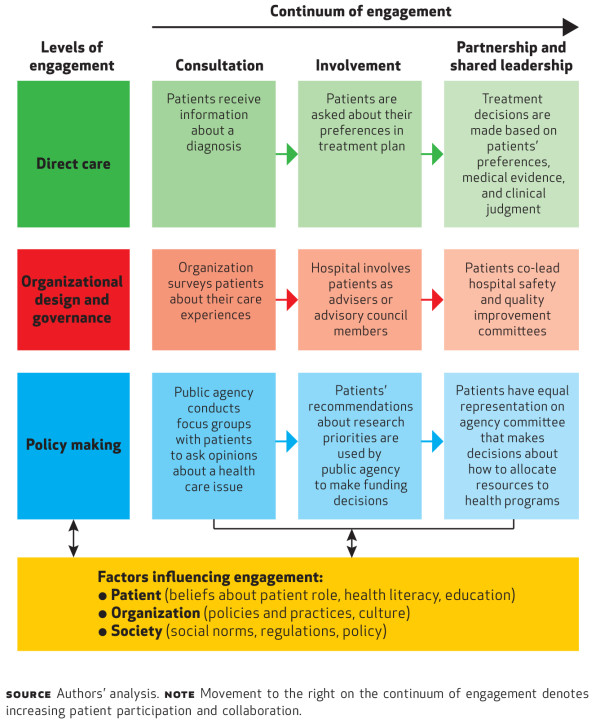 The work of the Commission
Here at the Commission, we have a key role in maintaining the authenticity of the co-design process, tools and methods to guide the gathering of information to help understand the problem and generate solutions together.
The Partners in Care programme has provided training and education to consumers and the sector in the form of a 7–9-month programme mainly aimed at service delivery level co-design for the past eight years.
Many other teams within the Commission include co-design in their programmes, making it integral to the work we do.
Three things you can do
Understand the different approaches and terms used to describe co-design.
Be clear about how you are adopting co-design in your work.
Be authentic to the process.
We are here to help
For more information about how to include co-design in your work, or any other co-design matters, please contact the Partners in Care team, who would be happy to help: consumers@hqsc.govt.nz.
Information about tools and projects undertaken in the sector, as well as evaluations and papers about co-design at the Commission, can be found at: https://www.hqsc.govt.nz/our-programmes/partners-in-care/work-programmes/co-design/.
---
Author: Chris Walsh, director, Partners in Care
Carman KL, Dardess P, Maurer M, et al. 2013. Patient and family engagement: A framework for understanding the elements and developing interventions and policies.

Health Affairs

32(2): 223–31. URL:

http://content.healthaffairs.org/content/32/2/223.full.html.