The Health Quality & Safety Commission's Partners in Care programme team were invited to attend a consumer-focused grand round at Bay of Plenty District Health Board (DHB) on 21 August. Consumers and staff presented the projects they completed as part of the Partners in Care co-design programme, which is taught by Dr Lynne Maher from Ko Awatea.
Six teams from Bay of Plenty DHB took part in the 2017–18 cohort.
Commission staff Dr Chris Walsh and Deon York were delighted at the invitation to facilitate the grand round and enjoyed hearing about each team's achievements.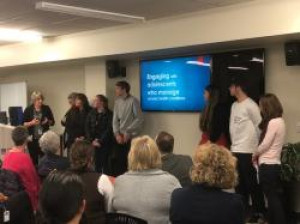 Consumers and staff share their co-design project at the Bay of Plenty DHB grand rounds.
"It was fantastic to hear about the work that has been done by the teams to support co-design to improve services," says Dr Walsh.
"We are particularly interested to see the focus on discharge planning, which is one of the lower scoring areas of the in-patient experience survey. Improving communication was also a strong theme across all projects."
The six–eight-month co-design programme provides an opportunity for teams of consumers and staff to identify a problem or issue in their service and use the co-design method and tools to look at ways to address the issue.
Over 50 staff attended the hour-long session and heard about co-design projects covering a wide range of topics.
In 2018–19 the co-design programme will be delivered in conjunction with teams from Capital & Coast DHB and Pegasus Health.
More information about the Partners in Care co-design programme, and case studies from past projects, are available on the Commission website. A video of the presentations from the grand round is available on Vimeo.
Co-design projects completed in 2017–18 at Bay of Plenty DHB:
Engaging with adolescents who manage chronic health conditions.
The cancer journey discharge experience.
Rheumatic fever prophylaxis service.
A pharmacy service on discharge.
Discharge information for patients by patients.
Mental health and addiction services discharge experience.