Kia mārama ki te hoahoa tahi
Understanding co-design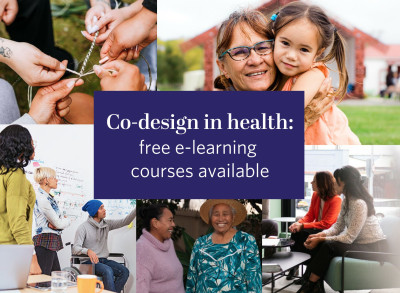 The promotion of co-design as a method to involve consumers, whānau and communities in the design, delivery and evaluation of health services has been a long-standing focus of the Commission. This approach can bring people together to ensure that multiple perspectives are reflected in the design, delivery and evaluation of services.

Through our collaboration with Ko Awatea, we have delivered co-design programmes in all regions. Read more about the many completed case studies below.

We have developed a suite of free e-learning courses for co-design that are available to all health care professionals. To find out more about these modules, click here. To access the Learn Online platform, please click here.
Defining co-design
Co-design is often used as an umbrella term for participatory, co-creation and open design processes. Key components of a co-design process should involve users and staff in designing solutions, and design decisions should only be made after feedback is gathered (Ko Awatea 2022).
Reference
Ko Awatea. 2022. Co Design. URL: koawatea.countiesmanukau.health.nz/co-design (accessed 18 April 2022).
Information and resources
2020– 21 project case studies
2019–20 project case studies
2018–19 project case studies
2017–18 project case studies
2016–17 project case studies
2015–16 project case studies
2014–15 project case studies
Co-design resources – NHS
Co-design research articles
Co-design Partners in Care programme reviews and evaluations
Other information and resources
Last updated: 3rd August, 2023