---
Appropriate prescribing toolkit: Introduction
This page forms part of the Appropriate prescribing toolkit. Use the links in the left hand menu to return to the main toolkit page or access the additional sections.
Appropriate prescribing encompasses both the under-prescribing of beneficial medicines and over-prescribing of medicines.
Polypharmacy refers to the use of multiple medication items by one person at the same time. There is no universally accepted definition for polypharmacy, and multiple definitions are used.[1] The most commonly cited definition is five or more medicines used daily, but it can range from two or more to 11 or more medicines. Numerical-only definitions fail to recognise specific co-morbidities, so a more useful definition is 'the use of medicines that are not clinically indicated'.[2]
Polypharmacy may be beneficial (appropriate polypharmacy) or potentially harmful (inappropriate or problematic polypharmacy):[3]
Appropriate polypharmacy is prescribing for an individual for complex conditions or for multiple conditions in circumstances where medicines use has been optimised and where the medicines are prescribed according to best evidence.
Inappropriate polypharmacy is prescribing multiple medicines inappropriately, or where the intended benefit of the medication is not realised. Inappropriate prescribing includes over-prescribing, under-prescribing and mis-prescribing (eg, a prescribing error).
Adverse drug events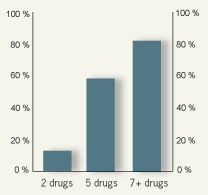 Figure 1: The increase in adverse drug effects with an increasing number of regular medicines
As people age, the body's ability to handle medicines changes. For example, reduced renal and hepatic function reduce the clearance (leaving the body) of medicines (pharmacokinetics changes), and there are changes in sensitivity to medicines (altered pharmacodynamics).[4] These changes, and increasing use of medicines, make people aged 65 years of age or older more susceptible to the adverse effects of medicines. We know that the more medicines a patient is prescribed the greater the risk of drug interactions and adverse drug reactions. The risk of an adverse drug event has been estimated at 13 percent for two drugs, 58 percent for five drugs and 82 percent for seven or more (see Figure 1).[2] Minimising the number of medicines prescribed reduces the risk of patient harm through adverse drug events and drug–drug interactions.
Deprescribing
Deprescribing describes the process of stopping, stepping down, or reducing doses of unnecessary or (potentially) harmful medicines, with the goal of improving patient outcomes and quality of life. The tools below can help prescribers decide which medicines may be inappropriate, by helping balance the benefits and risks from medicines, and to guide medicines review for an individual patient. The tools are generally targeted at the older person who may be living with several long-term conditions, often compounded by disability and/or frailty, but they apply to any adult patient.
Tools to guide medication review
Many different tools exist that highlight potentially inappropriate prescribing. The most commonly cited are Beers[5] and the STOPP/START criteria.[6] Many are variants of the Beers list (not listed here).
The tools in this toolkit are only a guide to medication review. The risks of polypharmacy must be balanced with the potential benefit(s) from a medicine. The criteria must be applied at an individual level as part of any risk-benefit analysis: what matters to the patient, the patient's comorbidities, frailty, life expectancy and medicine interactions. In practice, two or three tools may be combined to inform a medication review (eg, Beers[5] plus the Medication Appropriateness Index[7]).
---
References
Last updated: 5th April, 2022