Mahi haumaru mō te HA-SAB
Healthcare-associated Staphylococcus aureus bacteraemia (HA-SAB)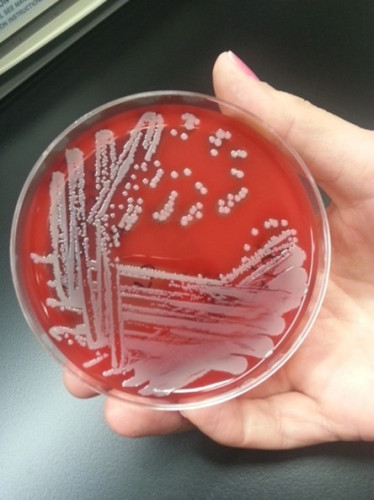 Staphylococcus aureus (S. aureus) is the most common cause of healthcare-associated bloodstream infections worldwide.
In health settings, S. aureus causes an infection when it enters the bloodstream by means of an existing infection or wound, or during a procedure involving penetration of the skin, such as surgery or the insertion of an intravascular or invasive medical device.
Individuals who develop healthcare-associated Staphylococcus aureus bacteraemia (HA-SAB) infections are more likely to have medical complications, need complex treatment and stay longer in hospital. HA-SAB infections can also result in death.
HA-SAB infections are potentially preventable through the use of infection prevention strategies such as compliance with the '5 moments for hand hygiene', aseptic technique, skin antisepsis before invasive procedures, improved insertion and management of indwelling devices, effective antimicrobial stewardship and regular infection surveillance.
HA-SAB infection surveillance
Continuous ongoing surveillance of healthcare-associated infections, including HA-SAB infections, is an important quality improvement activity that helps to make care safer and guides strategies to improve clinical practice. Surveillance of HA-SAB infection is considered a robust measure of the control of healthcare-associated infections and the quality of infection prevention and control strategies because the identification of S. aureus in a blood culture is rarely considered a contaminant. Many HA-SAB infections are preventable, especially those relating to intravascular devices, which are the most common infection types.
In 2012 Te Tāhū Hauora Health Quality & Safety Commission (Te Tāhū Hauora) endorsed using the rate of HA-SAB infections per 1,000 inpatient days as the outcome marker for Hand Hygiene New Zealand, its national quality improvement programme. The latest outcome marker results are available here.
In 2021, Te Tāhū Hauora used data from 2017 to 2021 provided by the then-district health boards to investigate the source of HA-SAB infections in Aotearoa New Zealand public hospitals. Medical devices accounted for most reported HA-SAB infection sources (65 percent), followed by surgical site infection (10 percent) and organ site infection (8 percent). Other sources of HA-SAB infection included medical procedure (7 percent), neutropaenic sepsis (4 percent) and pneumonia (2 percent).
Since 1 July 2022, public hospitals have been required to submit HA-SAB infection data each quarter using a standardised HA-SAB data collection form that captures source details.
This surveillance will detect changes in healthcare-associated infection rates, which will inform quality improvement activities targeting infection prevention measures and best practice related to intravascular and other devices.
Reducing infections associated with vascular devices
In the 2021 study described above, vascular devices accounted for 96 percent of all devices, comprising central venous catheters (50 percent) and peripheral intravenous catheters (45 percent).
Between 2011 and 2013, Te Tāhū Hauora funded a successful collaborative to reduce the rate of central line associated bacteraemia in Aotearoa New Zealand intensive care units towards zero (< 2 per 1,000 line days). Read the final report for the 'Target CLAB Zero National Collaborative to Prevent Central Line Associated Bacteraemia'.
The infection prevention and control team at Te Tāhū Hauora is currently developing a national quality improvement initiative aimed at reducing infections associated with peripheral intravenous catheters.

Related resources
Guide: Surveillance of healthcare-associated Staphylococcus aureus bacteraemia
Webinar slides: Healthcare-associated Staphylococcus aureus bacteraemia training webinar
Resource: HA-SAB surveillance data form for Te Whatu Ora districts v2.0
Journal article: Sources of healthcare-associated Staphylococcus aureus bacteraemia in New Zealand acute hospitals (October 2022)
Resource: Healthcare-associated infection Severity Assessment Code (SAC) examples 2022–23

Last updated: 29th May, 2023