Critical haemorrhage two-year site survey
Reducing mortality from traumatic critical haemorrhage remains a priority for the Health Quality & Safety Commission and the National Trauma Network. Since publishing the national best practice bundle of care in December 2020, we have seen a continued decrease in mortality from haemorrhage across New Zealand, from 12.3 percent down to 5.6 percent of trauma deaths.
Figure 1: Proportion of trauma deaths from haemorrhage 2017–22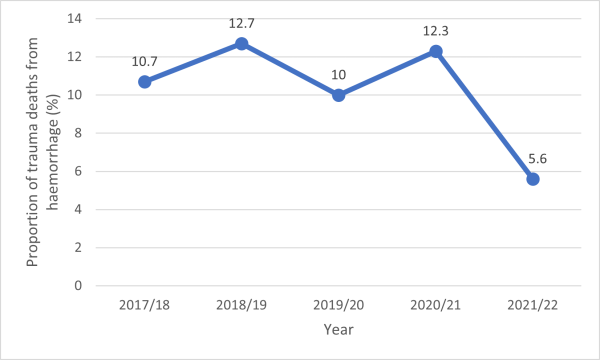 The Commission has now completed a second site survey at two-years post publication of the bundle.
Thank you to all who participated in the two-year survey. We received a total of 19 responses of the 23 hospitals we surveyed, an overall response rate of 83 percent. Of the responses:
79 percent (15 sites) now have a formalised activation protocol for critical haemorrhage in place, up from 54 percent at one year
Two further sites are working with their trauma committees and blood banks to finalise and implement a local critical haemorrhage activation
Two-thirds of services have made amendments to their Massive Transfusions Protocol (MTP) based on the evidence-based guidelines found in the bundle of care since publication, with a further three sites in the process of doing so
100 percent of emergency departments are holding annual critical haemorrhage simulation training at both
75 percent of operating theatres (14 sites) are now holding simulation training at 24 months.
Related resources
Two-year site survey infographic (156KB, pdf)
Last updated: 9th August, 2023