Recognition and response systems
---
Recognition and response systems across New Zealand had been developed at a local level. There was considerable variation in the vital sign triggers used to prompt escalation of care, models of clinical response, and organisational approaches to managing the care of deteriorating patients.
A nationally consistent approach to recognising and responding to acute deterioration benefits patients, clinicians and the system as a whole. An effective and sustainable system includes a standardised national vital signs chart with early warning score and localised clinical escalation, response processes and clinical governance. Underpinning the clinical components are education and training, teamwork and communication, measurement, evaluation and continuous improvement.
The majority of district health board hospitals (DHBs) have now implemented improvements to their recognition and response systems. We congratulate the project teams for their hard work in preparing for and implementing these improvements.
We are continuing to support teams to sustain their improvements.
Clinical engagement, governance and leadership, measurement and building clinical and quality improvement capability remain important factors for successful implementation and sustainable recognition and response systems. Read our tools and guidance for hospitals.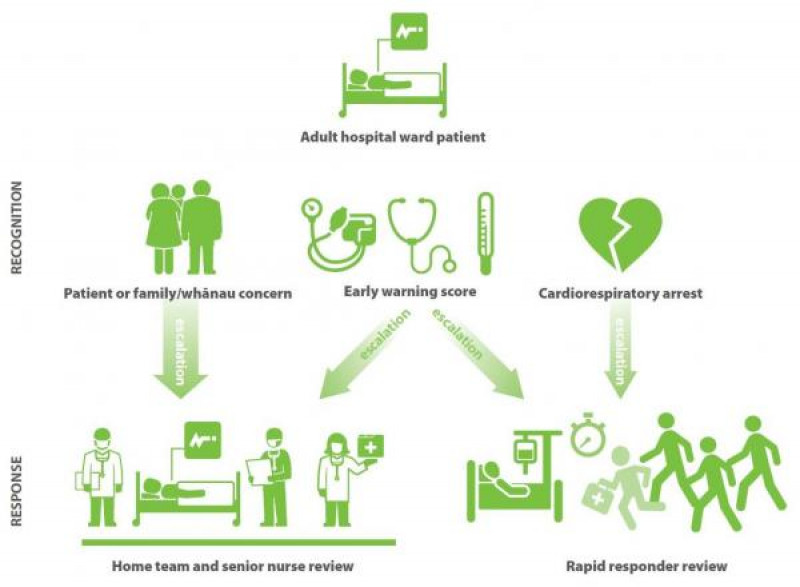 Components of a recognition and response system
Infographic and factsheets
The following infographic and factsheets provide helpful information and links to other resources.
---
Related Resources
Last updated: 16th December, 2021