Prevention quality indicators
The prevention quality indicators are a set of measures which, when combined with hospital in-patient discharge data, reveal meaningful information about the quality of care for ambulatory sensitive conditions. These are conditions for which good outpatient care or early intervention can prevent hospitalisation, complications or more severe disease. Put simply, low is good. While zero may not be achievable, the ideal rate for these fourteen prevention quality indicators is as low as possible.
While based on hospital in-patient data, these indicators give insight beyond just a secondary care context as the point of early detection often sits within community and primary care. For example, patients with diabetes may be hospitalised for diabetic complications if their condition is not adequately monitored or if they are not given enough information for appropriate self-management outside of hospital.
The prevention quality indicators can be used to identify unmet needs within community based care, show resource variation across DHB regions, and clearly outline opportunities for quality improvement within community, primary and secondary care settings.
A login is required to access more detailed information and district health board indicator data. To request a login, email the health quality intelligence team at qis@hqsc.govt.nz. If you already have a login, click the button below.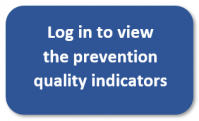 The prevention quality indicators are:
PQI 01 Diabetes Short-term Complications Admission Rate
PQI 02 Perforated Appendix Admission Rate
PQI 03 Diabetes Long-term Complications Admission Rate
PQI 05 COPD or Asthma in Older Adults Admission Rate
PQI 07 Hypertension Admission Rate
PQI 08 Heart Failure Admission Rate
PQI 09 Low Birth Weight Rate
PQI 10 Dehydration Admission Rate
PQI 11 Bacterial Pneumonia Admission Rate
PQI 12 Urinary Tract Infection Admission Rate
PQI 13 Angina Without Procedure Admission Rate
PQI 14 Uncontrolled Diabetes Admission Rate
PQI 15 Asthma in Younger Adults Admission Rate
PQI 16 Lower-Extremity Amputation Diabetes Rate
Last updated: 6th December, 2021