Back to previous page
Let's plan for your next health care visit | Me whakamahere i tō toronga haumanu hauora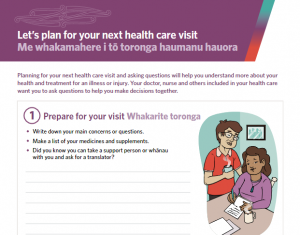 Info sheet for consumers – can be placed in reception areas, pharmacies, waiting rooms, included in physical mailouts.

This resource is to help you plan your next health care visit. Planning and asking questions will help you understand more about your health and treatment for an illness or injury. Your doctor, nurse and others included in your health care want you to ask questions to help you make decisions together.

You can order hard copies online here (Consumer resources section).
---
Last updated: 5th October, 2023