Ngā wāhanga matua
Priority areas
---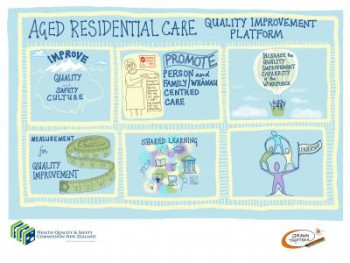 Our sector engagement to date has helped us identify six key domains that will focus our work and provide the foundations of a quality improvement platform.

In keeping with our strategic vision of providing a 'helping hand' we will create opportunities for learning and sharing across these domains; help to grow a quality improvement network and communities of interest; and support a culture of continuous learning and improvement across the sector informed by robust data and information.


Person and family/whānau-centred care
Using co-design and resident stories to better understand the needs and preferences of people in aged residential care. This includes supporting a co-design project to improve the capture and use of information on people's preferences and needs. Further information on how this model has been applied in other areas of the Commission's sector focused work can be found in the Partners in Care section of our website.
Leadership
Strengthen clinical leadership and leadership for quality improvement and resident safety, to support a strong quality and safety culture across aged residential care. Further information on tools and resources to build leadership and capability across the health sector can be found in the building leadership and capability section of our website.
Quality and safety culture
Support the aged residential care sector to build a stronger culture around quality and resident safety.
Quality improvement capability of the workforce
Strengthen capability in quality improvement science among aged residential care staff and support the development of a quality improvement network. Further information on the networks currently established for other sectors can be found in the improvement networks section of the improving leadership and capability section of our website.
Measurement for quality improvement
Improve the use of data to understand where improvement is needed and to measure improvement. This includes working in partnership with interRAI to develop quality improvement and quality of life indicators.
Shared learning
Encourage innovation and sharing of good practice by supporting local quality improvement projects for specific topics, and through helping collate best practice tools and guidance and sharing these through a central information source.
Further information on how the Commission is supporting learning from adverse events, as one example, can be found in our 'Open Book' learning tool series.
Last updated: 16th December, 2021