Hauora Māori approach to developing care plans
---
The aged residential care programme is profiling some of the great work done in the sector. Here we look at Enliven Presbyterian Support's work on setting up a hauora Māori approach to developing care plans for their residents. Next we will profile residents, whānau and staff at Kowhainui Village in Whanganui to see how they find the programme.
Aged care facility managers and staff are faced with the challenge of supporting residents as they transition into care. The cultural and spiritual needs of new residents and their whānau must be met with respect and consideration.
Enliven is working on a new model of care for their Māori health plan with Te Whare Tapa Whā as a key principle.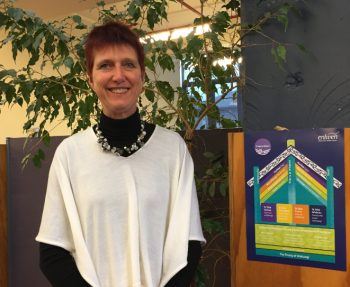 Nicola Turner pictured with a poster of the hauora Māori approach to care plans.
Nicola Turner, general manager Enliven residential for Presbyterian Support Central, says they started training their staff on the Treaty of Waitangi principles but there was a desire from staff, residents and whānau to take Māori principles of care into consideration.
While reviewing their Māori health plan, an advisory group was established at the Kowhainui Village in Whanganui.
'The advisory group made sure the plan was not just a piece of paper and could be incorporated into culturally appropriate care plans for the residents,' she says.
The advisory group membership is fluid but includes whānau, residents, staff, cultural advisors and kaumātua.
'The work aims to combine both the four elements of Te Whare Tapa Whā* with Enliven's philosophy which is based on the internationally-recognised elder-directed model of care the Eden Alternative®. It focuses on ways to support elders to enjoy the things they always have.'

Once residents have settled into their new surroundings, a staff member meets with them and their family to create a care plan that incorporates both sets of values – Te Whare Tapa Whā and Eden Alternative Domains of Well-Being™.
'This work will help staff recognise what's important to the residents, and how they can maintain their normal routines, and look beyond just the physical medical needs to look at the cultural and spiritual needs,' says Nicola.
'Other changes have included placing bowls of water outside rooms when a resident passes away to allow people to wash their hands to remove tapu. Our cultural advisory group are now considering a pōwhiri for residents as a way of welcoming them to their new homes,' she says.
Nicola says the work has raised some challenges, such as how to incorporate the care plan into their resident management software and providing extra training for staff who aren't familiar with Māoritanga.
'The work is going through a quality improvement process and is proving to be a great way to engage the residents and their family and whānau. While it is hard work, the programme is already being recognised; The cultural advisory group won the 'best team' at Presbyterian Support central's quality and innovation awards in May,' says Nicola.
The programme will eventually be rolled out nationwide as part of their transition process and take into consideration regional variation.
'Areas that have a large Pacific community will have different needs than those with a high Māori population.'
'The work recognises the importance of the partnership with tangata whenua under the Treaty, but the care plans have also been trialled with residents with German, Chinese and Indian backgrounds with positive results,' says Nicola.
This builds on co-design work already underway with residents, such as having residents on interview panels for management staff, moving towards more self-service food, smaller dining spaces, and being more responsive to residents' own timetables.
Nicola recognises that this requires strong leadership. 'Whatever decision is made, it will be driven out, and it becomes embedded. If you haven't got your senior management on board, it won't happen.'
* The four elements of Te Whare Tapa Whā include te tahu wairua (spiritual wellbeing), te taha hinengaro (mental and emotional wellbeing), te taha tinana (physical wellbeing), and te taha whānau (family and social wellbeing).
---
Related Resources
Last updated: 13th November, 2021