---
The national roll-out will be staggered across three cohorts from July 2015 through January 2017. Staggering allows:
the Commission to work the organisations which are ready to implement in the first instance, and spread change as others are ready
for the establishment and support of regional hubs for sustained improvement
for adequate preparation time, as identified by the proof of concept project as being essential.
DHBs advised the Commission of their preferred cohort. The cohort members are:

It is expected that private surgical hospitals will work with their local DHB to implement the interventions.
The roll-out timeframe ensures each of the three cohorts have a three month preparation period and nine-month implementation period. The preparation period for cohort two and three has been extended to account for December and January.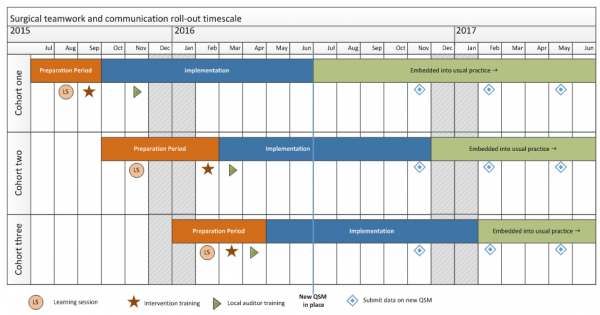 It is anticipated that, by the end of the implementation period, cohort members will have embedded the paperless checklist into usual practice (considering local circumstances) and started implementing briefing and debriefing.
Each cohort will be supported by the programme team and will include:
copies of

Improving surgical teamwork and communication – a guide to preparing and implementing
cohort specific webinars/ conference calls
hosting a learning session during the preparation period:

cohort one – Auckland, August 2015
cohort two – Wellington, November 2015
cohort three – Christchurch, February 2016

on-site intervention training
on-site visits to cohort member and telephone calls as required
regular newsletters and emails to share learning
printed and downloadable resources to assist implementation as required
on-site auditor train-the-trainer session
quality improvement advice and assistance
national clinical leadership.
---
Related Resources
Last updated: 13th November, 2021